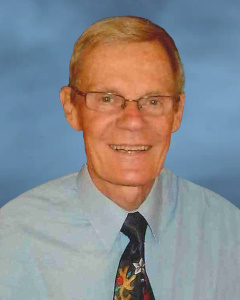 Service Information
Henry "Hank" M. Larsen, age 83, of Glencoe, Minnesota, passed away on Monday, September 4, 2023, at Glencoe Regional Health Services in Glencoe.
Memorial Service will be held Friday, September 8, 2023, 11:00 A.M., at Christ Lutheran Church in Glencoe, with interment following in the Christ Lutheran Church Columbarium.
Gathering of Family & Friends will be held Thursday, September 7, 2023, from 4:00-7:00 P.M. at Christ Lutheran Church and will continue one hour prior to the service at the church on Friday.
The memorial service will be livestreamed on the Christ Lutheran Church website (https://www.christluth.com/) and on the Christ Lutheran Facebook Page. (https://www.facebook.com/christlutheranchurchglencoemn)
Visitation/Gathering
Christ Lutheran Church
1820 Knight Avenue N
Glencoe, MN
Service
Christ Lutheran Church
1820 Knight Avenue N
Glencoe, MN
Funeral Chapel
Johnson-McBride Funeral Chapel
1222 Hennepin Avenue
Glencoe, MN 55336
Phone:(320) 864-3737
Obituary
Henry "Hank" Martin Larsen was born on July 19, 1940, in Brooklyn, New York. He was the son of Ingvald and Ingeborg (Hausken) Larsen. He was baptized in 1946 and later confirmed in his faith in 1954 both at Zion Lutheran Church in Brooklyn, New York. Hank grew up in Brooklyn, New York. From the age of 3 until 13, he lived at a Norwegian Children's Home in Brooklyn. He received his education in New York and graduated from McKee High School in Staten Island, New York, with the class of 1958. Hank moved to Minnesota at the age of 19. He continued his education at Bemidji State University in Bemidji, Minnesota, graduating in 1963, having earned a Bachelor's degree in Education. Following that he went on to receive his Master's Degree in American History from Mankato State University in Mankato, Minnesota.
On August 27, 1967, Hank was united in marriage to Judith Ann "Judy" Marie Anderson at Our Savior's Lutheran Church in East Bethel, Minnesota. The couple met in Morton, Minnesota, and after marrying in 1967, the couple moved to Glencoe, Minnesota. Hank and Judith's marriage was blessed with two sons, John and Joshua. The couple celebrated 56 years of marriage together.
Hank was a teacher at Morton High School in Morton from 1963-1967. In 1967, he began teaching at the Glencoe High School in Glencoe; he taught there until 1981. During this time Hank was a coach for the Cross-Country team as well as the Track team there. In 1978, Hank established a retail clothing store, "Heritage Family Store", starting in Glencoe and later expanding to Gaylord, Cokato, and Hutchinson. After 22 years, Hank retired in 2000.
Hank was an incredible athlete. He participated in numerous marathons and triathlons around the country; training on a daily basis eagerly preparing for the next race. Hank took great pride in keeping his home and surrounding landscape well-kept. The couple enjoyed traveling and spending their winters in Arizona. Hank cherished the time he spent with his family and with his friends.
Hank passed away on September 4, 2023, at Glencoe Regional Health Services in Glencoe at the age of 83 years. Blessed be his memory.
Hank is survived by his
Spouse, Judy Larsen of Glencoe, MN;
Children, John Larsen of St. Louis Park, MN,
                Josh Larsen and his wife, Kari, of Glencoe, MN;
Niece, Robyn Larsen, and her sons, Josh and Sean;
Brothers-in-law and Sisters-in-law, Paul and Janet Jacobson, Joanne Rachner, Mike and Betty Gabrick, Gordon and Mary Hass;
Other relatives and many friends.
Hank was preceded in death by his parents, Ingvald and Ingeborg Larsen; Brothers, Ingvald Larsen, and his wife, Sandy, and Carl Larsen, and his wife, Ruth; Sister, Joan Courtier and her husband, Richard; Father-in-law and Mother-in-law, John and Ethel Anderson; Brother-in-law, Ralph Rachner; Nephew, Flynn Larsen.