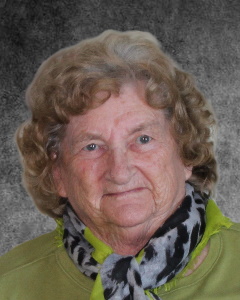 Service Information
Inez E. Dascher, age 90, of Buffalo Lake, Minnesota, passed away on Wednesday, June 8, 2022, at Buffalo Lake Healthcare Center in Buffalo Lake.
Memorial Service will be Saturday, July 16, 2022, at 2:00 P.M. at the Buffalo Lake Community Center in Buffalo Lake, with interment at a later date at Zion Evangelical Cemetery in Buffalo Lake.
Gathering of Family and Friends will be held one hour prior to the service at the Buffalo Lake Community Center.
Funeral Chapel
Hughes-Hantge Funeral Chapel
311 Main Street S.
Hector, MN 55342
Phone:(320) 848-6297
Cemetery
Zion Evangelical Cemetery (Preston Lake Twp)
Renville County, Preston Lake Township
Buffalo Lake, MN
Renville
Obituary
Inez was born on January 16, 1932 in Winthrop. She was the eldest daughter of August William Habeck (1904-1982) and Anna Alma Borchert Fruhwirth (1910-1985). Her siblings included JoAnn Villa (1935-) and Ordell Yonkovich (1937-2014).
After dating for four years, Inez was united in marriage to Robert George Dascher (1927-2009) on March 21, 1959 at the Zion Lutheran Church in Winthrop. Inez and Robert shared 50 years of marriage before Robert's unexpected death from a fall on June 26, 2009. He was 82 years old.
Inez led a busy life taking care of her family and partnering with her husband to run the family farm. There were many days you could see Inez on a tractor or truck working hard to get the crop planted or harvested.
Additionally, Inez was active in her community where she served on the Buffalo Lake Healthcare Center's Board of Directors and the FREE Council (Friends, Relatives, Enabling Elderly), the Buffalo Lake United Methodist Church Administrative Board, the Buffalo Lake Methodist Church Board of Trustees, and the Hutchinson Concert Association Board. Inez was also a Lakeside Comets 4-H leader and a regular judge at the Buffalo Lake-Hector-Stewart Elementary School Science Fair. She enjoyed participating in community events, such as the Buffalo Lake Christmas Tour of Homes, the Buffalo Lake Summer Garden Tour, and the Buffalo Lake Women's Improvement Club Flower Show.
Over the years, Inez enjoyed many hobbies, which included arranging flowers, doing paper crafts, gardening, hunting, knitting and crocheting, listening to music, making ceramic figurines, making quilts for her family, photographing flowers and farm animals, sewing clothes for herself and family, traveling with her husband and friends, playing pinochle with a local club, and writing poetry.
Inez is survived by her children, Kris Dascher of Savage, Nancy Redden and her husband, Joel Gossell of Victoria, Steve Dascher of Buffalo Lake, and Heidi Smith and her husband, Mike of West Hills, California. Inez always enjoyed spending time with her grandchildren, Keeley Redden, Blaine Redden, Kelsie Dascher, Megan Dascher, Alexander Smith, Nathan Smith, and Sydney Smith.
In all, Inez was a creative spirit. She will be missed, but her creativity lives on in the form of quilts, afghans, ceramic figurines, photographs, and poetry. What follows is one of the many poems she wrote as a teenager:
Why is the sun so far and high
That you can't reach it, nor can I.
The earth around it steadily goes
The reason for this no one knows.
It looks just like a ball of fire
That never seems to go any higher.
It creeps across the sky at day
Then at night it fades away.
Inez Dascher
The Dascher family asks that if you are so moved, you make a donation in Inez's name to the FREE Council (Friends, Relatives, Enabling Elderly & Family Council) at the Buffalo Lake Healthcare Center. Make checks payable to FREE, then mail to FREE c/o BLHC, 703 W. Yellowstone Trail, Buffalo Lake MN 55314.