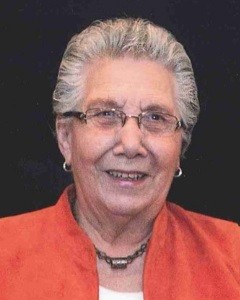 Service Information
Inez Skucius, age 88, Hutchinson, formerly of Hector, passed away Sunday, July 24, 2016, at Harmony River Living Center in Hutchinson.
Funeral Service will be held Thursday, August 4, 2016, at 11:00 A.M. at St. Paul's Lutheran Church in Hector.
Interment will be held in the Hector City Cemetery.
Visitation will be held Wednesday, August 3, 2016, from 5:00 – 8:00 p.m., at the Hughes-Hantge Funeral Chapel in Hector, and will continue on Thursday at St. Paul's Lutheran Church for one hour prior to the service.
Visitation/Gathering
Hughes-Hantge Chapel
311 Main Street South
Hector, MN
Website:hughes@hantge.com
Service
St. Paul's Lutheran Church
500 Cedar Avenue East
Hector, MN
Funeral Chapel
Hughes-Hantge Funeral Chapel
311 Main Street S.
Hector, MN 55342
Phone:(320) 848-6297
Cemetery
Hector City Cemetery
Renville County, Hector Township, Section 32
Hector, MN
Obituary
     Inez Elaine Skucius was born March 21, 1928, on the family farm in East Lake Lillian Township, Lake Lillian, MN, the daughter of George and Ella (Christie) Garberich. She attended Kandiyohi School District #79. Inez was baptized and confirmed at the First Lutheran Church in Lake Lillian.
     On November 27, 1948 she married Roy "Sandy" Sandquist.  Sandy died of cancer on June 24, 1950.  On May 24, 1952, Inez and Victor "Vic" Skucius were married in the Our Savior's Lutheran Church parsonage in Bird Island, MN. Vic and Inez made their home in Hector, and their union was blessed with two children, Michael and Vicki. Inez helped Vic in the cabinet-making business they started in 1953. Throughout their marriage, Inez and Vic danced every Saturday night to Polka and Waltz music. After Vic passed away on March 10, 1981, Inez continued living in Hector until 2011 when she moved to Greencastle Condominiums in Hutchinson.
     Inez enjoyed working as a waitress at the Green Mill Café in Hector years ago. She was also employed by Suttle Apparatus for over 20 years. She was a member of St Paul's Lutheran Church in Hector and the American Legion Auxiliary Carl O. Potter Post 135. She enjoyed spending time with family, music and dancing, walking, biking, crocheting, crossword puzzles, reading, and rarely, even in her last days, turned down a chance to have coffee and visit with her friends. Inez loved her family, especially her grandchildren.
     On July 8, 2016, Inez moved to Harmony River Living Center where she passed away peacefully on Sunday, July 24, having reached the age of 88 years. Blessed be her memory.
     Inez is survived by her son, Michael (Joy) of Hector, MN; daughter, Vicki (John) Kiland of Henderson, NV; two grandchildren, Evan Skucius and Kendall Kiland; sisters-in-law, Sarah Garberich of Willmar, MN, and Betty Jane Garberich of Hutchinson, MN; many nieces and nephews, other relatives, and friends.
     She was preceded in death by her parents; her husbands, Roy and Victor; sisters: Delores (Marvin) Macik, Gladys (Christopher) Corley, Evelyn (Leonard) Rice, and Leona (Erwin) Schroeder; brothers: Roland (Lena), Melvin (Lucille), Dwayne (Marion), Donald, and Earl; and by her in-laws: George Skucius, Ernest Skucius,  Mary Jane Skucius, Alice (Harry) Kossack, Anna (Wilbert) Precht.