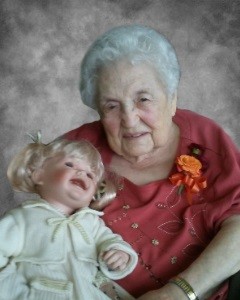 Service Information
Inez G. Taugner, age 100, of Hutchinson, Minnesota, formerly of Roseville, Minnesota, passed away Sunday, September 24th, 2017, at Harmony River Living Center in Hutchinson.
Funeral Services will be Sunday, October 1st, 2017, at 11:00 A.M. at the Dobratz-Hantge Chapel in Hutchinson with interment in the Roselawn Cemetery in Roseville, Minnesota.
Visitation will be one hour prior to the service on Sunday at the Dobratz-Hantge Chapel.
Visitation/Gathering
Dobratz-Hantge Chapel
899 Highway 15 South
Hutchinson, MN
Website:hantge.com
Service
Dobratz-Hantge Chapel
899 Highway 15 South
Hutchinson, MN
Website:hantge.com
Funeral Chapel
Dobratz-Hantge Funeral Chapel
899 Highway 15 South
Hutchinson, MN 55350
Phone:(320) 587-2128
Cemetery
Obituary
Inez Garnes Taugner was born on March 21, 1917, in Veblen, South Dakota. She was the daughter of Ira and Marie (Stibal) Crandall. She was raised on a farm outside of Marlow, South Dakota, with her two older brothers, Alten and Arnam. Inez was baptized and confirmed in her faith as a youth on September 2, 1934.  She received her education in Marlow, South Dakota and was a graduate of the Veblen High School Class of 1934. After graduating high school, Inez moved to the big city of St. Paul. 
On September 17, 1938, Inez was united in marriage to Joseph "Joe" Taugner at St. Vincents in St. Paul, Minnesota. This marriage was blessed with three children, Arwyn, Annita, and Lynette. Inez and Joseph resided in Roseville, Minnesota. They shared 61 years of marriage together.
Inez worked at the Golden Age Nursing Home in Roseville in the laundry department, retiring after 28 years.
Inez was also a member of Ladies Sewing Club.  
Inez had a love for dolls, all shapes and sizes. At one point her collection exceeded well over 400. Together, Inez and Joe, enjoyed making many beautiful craft pieces of all kinds. Inez's talent seemed endless; crocheting, macramé, knitting, sewing to name a few.
When Inez needed assistance with her daily care, she became a resident of Harmony River Living Center in Hutchinson on November 1, 2016. She passed away there on Sunday, September 24, 2017, at the age of 100 years.
Blessed be her memory.
Inez is survived by her:
Son,           Arwyn (Sharon) Taugner,
Daughters, Annita (Leland) Trana,
                  Lynette (Joe) Froehle;
Grandchildren, Mark (Robin) Trana, Lavon (Kevin) Rosendahl, Steven (Susan) Taugner, Christopher Taugner, Linda (Tom) Inabnet, Gary (DeVone) Taugner, Anthony (JoAnne) Bixby, Bradley (Jackie) Bixby;
Great Grandchildren, Dalton Inabnet, Shawn Taugner, Joshua (Kathryn) Taugner, Elise Trana, Leah Trana, Lily Trana, Anthony Bixby, Annika Bixby, Abram Bixby, Alek Bixby, Atticus Bixby, Amelia (Brennan) Lamar, Ashley Bixby;
Great Great Grandchildren, Jaelyn and Elaena Lamar;
Many other relatives and friends.
Inez is preceded in death by her Parents, Ira and Marie Crandall; Husband, Joseph Taugner; Brothers, Alten Crandall, and Arnam Crandall.