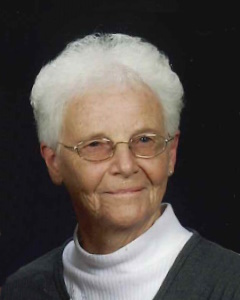 Service Information
Irene E. Yerks, age 89, of Silver Lake, formerly of Hutchinson, Minnesota, passed away on Saturday, August 19, 2023, at Cedar Crest Estate in Silver Lake.
Memorial Service will be held on Saturday, September 9, 2023, at 11:00 A.M. at Peace Lutheran Church in Hutchinson, Minnesota, with interment in the church cemetery.
Gathering of Family and Friends will be held one hour prior to the service at the church.
Visitation/Gathering
Peace Lutheran Church
400 Franklin Street SW
Hutchinson, MN
Service
Peace Lutheran Church
400 Franklin Street SW
Hutchinson, MN
Funeral Chapel
Dobratz-Hantge Funeral Chapel
899 Highway 15 South
Hutchinson, MN 55350
Phone:(320) 587-2128
Cemetery
Peace Lutheran Cemetery (Hutchinson)
205th Drive
Hutchinson, MN
Obituary
Irene Evelyn Yerks was born on January 15, 1934, in Stewart, Minnesota. She was the daughter of William and Louise (Rath) Bulau. Irene was baptized as an infant on February 11, 1934, by Pastor Zimmerman, and was later confirmed in her faith as a youth on May 16, 1948, by Pastor WM. Ulrich, both at Zion Lutheran Church in Buffalo Lake. She received her education in Buffalo Lake and was a graduate of the Bufalo Lake High School Class of 1952.
On November 21, 1952, Irene was united in marriage to Charles "Chuck" Leroy Yerks at Zion Lutheran Church by Pastor WM Lemke in Buffalo Lake, Minnesota. This marriage was blessed with four children, Diane, Michael, Beth, and Kimberly. Irene and Chuck resided at Fort Bennington in Georgia while Chuck was stationed in the Army, Aitkin, Minnesota, Hutchinson, Minnesota, and later moved to Silver Lake, Minnesota. They shared 69 years of marriage prior to the passing of Chuck on April 26, 2022.
Irene was employed at First National Bank in Minneapolis, Minnesota, for a period of time while Chuck was away. When he came home, Irene and Chuck decided to start a family. She stayed home with their children for several years until the children were older. Irene went on to work for J.C. Penney in Hutchinson for 12 years. During her retirement, Irene worked at Walmart as well as the Local Dacmart Store (Development Achievement Center) in Aitkin. When the couple returned to Hutchinson in 2006, and Irene began working at the Discovery School and the Hospital Auxiliary for many years.
During her life, Irene was an active member of Peace Lutheran Church in Hutchinson, volunteering at the Church Book Store for many years, and teaching Sunday School and Junior Bible Class. She also belonged to the Dorcas Group where she held many different offices and chair positions including Christian Growth, LWML Delegate, Secretary, Historian, Vice President, and Chairperson of the Funeral Group. Irene and Chuck were counselors with the Youth League at Peace Lutheran Church for several years and would take the youth of the church on camping trips. Irene also was a member of the Chat and Chew Group, Bible Study Group, and the Aitkin Lions Club serving as a Board Member.
Irene cherished time with her kids, grandkids, and great-grandkids. Irene and Chuck were members of a Square-Dancing Group and for many years belonged to a Pinochle Club. She had several hobbies including reading, embroidery, sewing, gardening, canning and preserving, and (her absolute favorite) fishing. Irene, Chuck, and their family spent many years camping at various campgrounds throughout Minnesota and other states.
Irene's last years were spent at Cedar Crest Estate in Silver Lake. The first were spent there with Chuck, and the last year and a half she lived by herself. Irene conquered many misgivings and trials, but she relied on her family and God to get her through her daily challenges.
Irene passed away on Saturday, August 19, 2023, at Cedar Crest Estate in Silver Lake, at the age of 89 years.
Blessed be her memory.
Irene is survived by her:
Children, Diane Doring and her husband, Ronald of Hutchinson, MN,
Michael Yerks and his wife, LuAnn of Hutchinson, MN,
Beth Kuiken and her husband, Paul of Aitkin, MN,
Kimberly Schmeling and her husband, Rodney of Hutchinson, MN;
9 Grandchildren;
17 Great-grandchildren;
11 Great-great-grandchildren;
Brothers, Bob Bulau and his wife, Mary of Rochester, MN,
Bill Bulau of Buffalo Lake, MN;
Sisters, Wendy Wick and her husband, Tom of Hutchinson, MN,
Mary Taylor and her husband, Allyn of Buffalo Lake, MN,
Phyllis Dunphy of New Prague, MN;
Sisters-in-law, Carol Bulau of Nevis, MN,
Janet Bulau of Litchfield, MN;
Many other relatives and friends.
Irene is preceded in death by her Parents, William and Louise Bulau; Husband, Charles Yerks; Stillborn Son; Brothers, Glen Bulau and Ken Bulau; Brother-in-law, Jim Dunphy, Sister, Lucille and her husband, Leonard Haas.