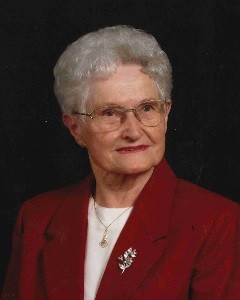 Service Information
Irma Katzenmeyer, age 98, of Hutchinson, Minnesota, passed away Sunday, October 15, 2017, at Harmony River Living Center in Hutchinson.
Funeral Services will be Friday, October 20, 2017, 11:00 A.M. at Peace Lutheran Church in Hutchinson. Interment will be in the Oakland Cemetery.
Visitation will be Thursday from 5:00 to 8:00 P.M. and Friday from 8:00 to 9:00 A.M. at the Dobratz-Hantge Funeral Chapel in Hutchinson. Visitation will continue one hour prior to the service at the church.
Visitation/Gathering
Dobratz-Hantge Chapel
899 Highway 15 South
Hutchinson, MN
Website:hantge.com
Service
Peace Lutheran Church
400 Franklin Street S
Hutchinson, MN
Funeral Chapel
Dobratz-Hantge Funeral Chapel
899 Highway 15 South
Hutchinson, MN 55350
Phone:(320) 587-2128
Cemetery
Oakland Cemetery
805 Hwy 15 South
Hutchinson, MN
Obituary
Irma M. Katzenmeyer was born on August 11, 1919, in Howard Lake, Minnesota. She was the daughter of Otto and Ida (Zander) Sieg. Irma was baptized as an infant and was later confirmed in her faith as a youth at St. James.  She received her education in Howard Lake, and was a graduate of the Howard Lake High School Class of 1938.
On June 24, 1947, Irma was united in marriage to Vernon Katzenmeyer at the St. James Lutheran Church in Howard Lake. This marriage was blessed with three children, Vicki, Nona, and Bradly. Irma and Vernon resided on the farm site at Route 2 Hutchinson all of their married lives where Irma was a loving homemaker. They shared 40 years of marriage together until Vernon passed away on October 31, 1987.
Irma was a member of Peace Lutheran Church in Hutchinson. She was also a member of Dorcas Society.  
Irma enjoyed sewing, crocheting, and quilting. She also enjoyed tending to her flower gardens and traveling. She especially enjoyed spending time with her family, grandchildren, and friends.
Irma passed away on Sunday, October 15, 2017, at Harmony River Living Center in Hutchinson, at the age of 98 years.
Blessed be her memory.
Irma is survived by her:
Children, Vicki Lange and her husband, Mark, of Sunberg, MN,
    Nona Anderson and her husband, Larry, of Hutchinson, MN;
Daughter-In-Law, Janelle Katzenmeyer of Hutchinson, MN;
Grandchildren, Kelly Sehr, KayLynn Floback, Faye Lange, Brent (April) Anderson, Joseph (Melissa) Katzenmeyer, Eric (Kati) Katzenmeyer, and Adam Katzenmeyer;
Great Grandchildren, Tyler and Dillyn Schwarz, Tanner Schugg, Toni and Alexis Floback, Cohan and Bryn Anderson, Claire, Isabel and Sydney Katzenmeyer and Peter Katzenmeyer;
Sister, Ardis Sexton of Watertown, MN;
Sister-In-Law, Queenie Sieg of Arizona;
Many other relatives and friends.
Irma is preceded in death by her Parents, Otto and Ida Sieg; Husband, Vernon Katzenmeyer; Son, Bradly Katzenmeyer; Brothers, Melvin Sieg and Harvey Sieg; Sisters, Idella Jenneke and Lucille Sieg (in infancy); Father and Mother-In-Law, Joseph and Luella Katzenmeyer; Brothers-In-Law, Marvin Sexton, Alvin Jenneke, and Paul Clouse; Sisters-In-Law, Ruth Sieg and Laura Clouse.