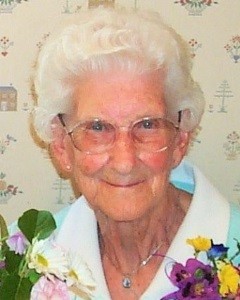 Service Information
Irma Sifferath, age 96, of Buffalo Lake, formerly of Hector, passed away Friday, February 6, 2015, at the Buffalo Lake Healthcare Center.
Funeral Service will be Wednesday, February 11, 2015, at 11:00 A.M. at Trinity Lutheran Church in Brookfield Township, rural Hector. 
Interment in the church cemetery.
Visitation will be held Tuesday from 5:00 – 8:00 P.M. at the Hughes-Hantge Funeral Chapel in Hector, and will continue for one hour prior to the service at the church on Wednesday. 
Visitation/Gathering
Hughes-Hantge Chapel
311 Main Street South
Hector, MN
Website:hughes@hantge.com
Service
Trinity Lutheran Church - Brookfield Township
88320 CR 22
Hector, MN
Funeral Chapel
Hughes-Hantge Funeral Chapel
311 Main Street S.
Hector, MN 55342
Phone:(320) 848-6297
Cemetery
Trinity Lutheran Cemetery (Brookfield Twp)
88320 CR 22
Hector, MN
Obituary
     Irma Margaret Wehking Sifferath was born April 30, 1918, in Brookfield Township, Renville County, Minnesota, the daughter of Carl and Wilhelmina (Bierbaum) Wehking.  She was baptized on June 19, 1918, at Trinity Lutheran Church in Brookfield Township, and confirmed in her faith there as a youth on March 20, 1932.  She attended country school in Brookfield Township.
     On June 15, 1938, she was united in marriage to Harry Sifferath at her home in Brookfield Township.  This marriage was blessed with three children, Darris, Eileen, and Gayle.  Irma and Harry made their home northeast of Hector, where they farmed for many years.   Harry passed away on May 24, 2004.  They had shared 65 years of marriage. 
     Irma enjoyed her years working alongside her husband as a farm wife and mother.  She always grew a bountiful garden.  She enjoyed canning and freezing her produce, as well as cooking and baking. 
     Irma was a lifelong member of Trinity Lutheran Church in Brookfield Township.  She was the church organist for many years, playing for both German and English services.  She taught Sunday School, Junior Mission Band, and Confirmation for over 50 years.  One thing that always made Irma smile over the years is when younger people would say to her, "I remember when you were my Sunday school teacher!"  Irma was an active member of Women of the ELCA, serving in many capacities.   
     Irma loved fishing, traveling, and being outdoors.  She also enjoyed reading and dancing.   She loved spending time with her family, especially her children and grandchildren. 
     On Friday morning, February 6, 2015, Irma passed away at the Buffalo Lake Healthcare Center.  She was the last surviving relative on both sides of her family and Harry's family, reaching the age of 96 years, 9 months, 6 days.   Blessed be her memory.
     Irma is survived by her:
Son Darris Sifferath of Hector and his family: Louise Sifferath Smith and her husband  Joshua, and their son Braeden Smith of Redwood Falls, Ted Berg and family of Hanska, and Tim Berg and family of Hector;
Daughter Eileen Sifferath Schauman and her husband David of New Ulm, and their family: Angela Schauman of New Ulm, and Jim Schauman and Jessica Emmeck of Sleepy Eye;
Daughter Gayle Sifferath Grimm and her husband Jack of Buffalo Lake and their family: Paul Grimm and Hannah Grimm;
nieces, nephews, other relatives, and friends. 
     Irma was preceded in death by her parents, husband Harry, sister Clara, and brothers Ernest and Herbert Wehking.