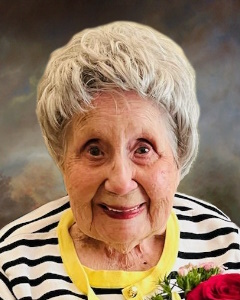 Service Information
Irma P. Scott, age 102, of Hutchinson, Minnesota, passed away on Tuesday, June 27, 2023, at The Emeralds of Faribault in Faribault, Minnesota.
Private Family Service will be held.
Funeral Chapel
Dobratz-Hantge Funeral Chapel
899 Highway 15 South
Hutchinson, MN 55350
Phone:(320) 587-2128
Obituary
On June 27, 2023, three days short of her 103rd birthday, Irma Phyllis Scott passed away peacefully at the The Emeralds Care facility in Faribault, MN. Born in Stewart, MN on June 30, 1920, Irma married Melvin Scott on October 22, 1941, and they made their home and raised their children in Hector, Minnesota. Melvin preceded her in death on March 23, 1994.
Irma was the mother to five children; grandmother to eight children; and great grandmother to 11 children. Many others considered her their surrogate mother or grandmother.
When Irma's children were young, the phrase "stay-at-home-mom" didn't exist. It was usual for women to stay home with the children while their husbands worked. She cared deeply for her family and neighbors. She did this not out of obligation, but because of who she was. She was always the first to offer help. She regularly brought meals to the home of sick neighbors. And she always ensured that every child who crossed her threshold was safe, healthy, and happy.
Irma is survived by her children Mariellen Dretsch, Sandy and spouse Gail Ehlers, Coleen O'Connell, Kevin Scott and Vicki Sutherland.
A Celebration of Life will happen on her would have been 103rd Birthday at the Emeralds Chapel in Faribault. She will be buried next to her husband in a graveside service at the Oakland Cemetery in Hutchinson, MN on July 3, 2023, at 10:00 am.