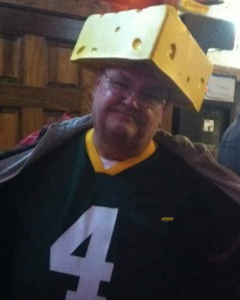 Service Information
Irven Ole Grove, age 77, of Norwood, Minnesota, passed away on Tuesday, November 1, 2022, at Ridgeview Medical Center in Waconia, Minnesota.
At Irv's request, there will be no funeral, but there will be a Celebration of Life at a later date.
Funeral Chapel
Paul-McBride Funeral Chapel
218 Hill Street W
Norwood - Young America, MN 55368
Phone:(952) 467-3281
Obituary
Irven (Irv) Ole Grove was born on December 26, 1944, to Ole and Irene (Jacobson) Grove.   He was raised and educated in Granville, ND.  After graduating, he entered the Army for 3 years and served in Germany.  Upon his discharge from the Army, he returned to Granville and worked for the Minot Daily News in the mailing room for 25 years.
On December 21st, 1979, Irv married Margaret "Maggie" (Henke) Amberg, becoming an amazing bonus dad to her three children, Paul, Shelly, and Stacy.  Later, they added two boys to the family, Daniel and Gregory.  In the summer of 1991, they moved to St. Cloud, where Irv worked at Creative Memories.  In 2007 they moved to Norwood Young America where he worked at Holiday until he retired.  He met and made many friends throughout these roles and his activities.
Irv loved sports.  He bowled up to four nights a week; enjoyed golfing (saying he played the entire course "water included") and softball where he eventually played in the Fossil League.  Maggie and Irv enjoyed square dancing in their younger years.  The Packers were always his lifelong love!
Irv was preceded in death by his parents, Ole and Irene Grove – Granville, ND; Son-in-Law, Jerry (Supe) Machacek – Cologne, MN;
Mother-in-Law and Father-in-Law, Ruben & Betty Henke; Sister-in-Law, Judi Vorderbruggen.
He is survived by his wife, Margaret, and his five children; Paul Amberg – Belfield, ND; Shelly Machacek (Tim Worm) – Cologne, MN; Stacy (Jared) Dose – Hamburg, MN; Daniel (Rae) Grove – Ewa Beach, HI; Greg Grove – Waconia, MN.  Additionally survived by 12 Grandchildren and 4 Great-Grandchildren; Brother, Harry (Jean) Grove – Choteau, MT; Sisters-in-Law, Mary Lee (Mike) Korkowski and Phyllis Henke – all of Brandon, MN; Brother-in-Law, Mark Vorderbruggen – Ft. Lauderdale, FL.