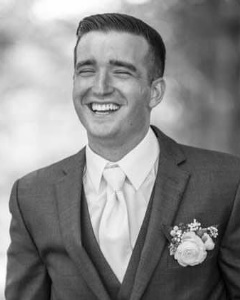 Service Information
Isaac J. Buboltz, age 29, of Fort Myers, Florida, passed away on Saturday, September 3, 2022, in Fort Myers.
Funeral Service will be held on Saturday, September 10, 2022, at 10:30 A.M. at Riverside Church in Hutchinson, Minnesota, with interment in Swedlanda Lutheran Cemetery in Palmyra Township, Minnesota.
Visitation will be held Friday, September 9, 2022, from 5:00 to 7:00 P.M. at Dobratz-Hantge Funeral Chapel in Hutchinson and will continue one hour prior to the service at the church.
Visitation/Gathering
Dobratz-Hantge Chapel
899 Highway 15 South
Hutchinson, MN
Website:hantge.com
Service
Riverside Church
20924 St. Hwy 7 West
Hutchinson, MN
Funeral Chapel
Dobratz-Hantge Funeral Chapel
899 Highway 15 South
Hutchinson, MN 55350
Phone:(320) 587-2128
Cemetery
Swedlanda Lutheran Cemetery (Palmyra Twp)
73950 CR 16
Palmyra Township, MN
Renville County
Obituary
Isaac "Ike" Joel Buboltz was born on June 2nd, 1993, in Willmar, Minnesota. He was the son of Randy and Sara Buboltz, and was the youngest of three brothers. Isaac grew up on his family's farm in rural Buffalo Lake, Minnesota, where he enjoyed farming and the outdoors. Isaac graduated from Buffalo Lake-Hector-Stewart Schools in 2012. As a young boy, Isaac the entrepreneur raised chickens and rabbits. He was active in football, basketball and golf. He loved family time at Green Lake, golfing, and hunting "quack quacks".
Flying was in Isaac's blood. Isaac earned his private pilot license at the age of 15. His father, Randy, uncles, Douglas and Michael, and great uncle, Eugene, also shared his love of flying. After high school, Isaac furthered his education at Embry-Riddle Aeronautical University in Daytona Beach, Florida, to pursue his dream of becoming a commercial airline pilot. After obtaining all of his ratings, Isaac moved to Atwater, California to train Chinese pilots. He was one of the youngest pilots hired at PSA and he soon advanced to Captain. Isaac excelled at this, and had flowed into working at American Airlines.
Through this passion, Isaac met the love of his life, Jennifer Herrington. They were united in marriage on June 23, 2018 at Stonewell Farms in Willmar. Together they welcomed two beautiful and amazing children, Leyla and Beckham. Isaac and Jennifer loved their children with all that they are. Isaac loved smoking and barbecuing meat for his little family. As a family, they lived in Minnesota, Livermore, California, and most recently had moved to Fort Myers, Florida.
Isaac's faith was extremely important to him. He had a deep connection with the Lord Jesus Christ. Isaac chose to be baptized as a young teen at Riverside AG. His heart was full of love for God, family, and friends. Isaac loved big and smiled with his eyes. His junior year, Isaac went on a mission trip with his mom to Nicaragua where he was able to share his love for the Lord with others. Isaac had God's heart for the broken, the needy and the underdog. Isaac especially enjoyed spending time with his wife, children, family, and friends.
Isaac unexpectedly and tragically lost his life on Saturday, September 3, 2022, in Fort Meyers, Florida, at the age of 29 years.
Blessed be his memory.
Isaac is survived by his:
Wife Jennifer Buboltz of Fort Meyers, FL;
2 Children, Leyla and Beckham Buboltz;
Parents, Randy and Sara Buboltz of Hutchinson, MN;
Brothers, Justin Buboltz of Hector, MN,
Samuel Buboltz and his wife, Lacy of Hector, MN;
Sisters-in-law, Rachel Herrington and her husband, Daniel Burkhart of Issaqueh, WA,
Laurie Herrington of Livermore, CA,
Julia Herrington of Portland, OR;
Mother and Father-in-law, Brian and Lisa Herrington of Livermore, CA;
Grandparents, Jerome and Gail Johnson of Spicer, MN,
Judith Buboltz of Hutchinson, MN;
Many other relatives and friends.
Isaac was preceded in death by his grandfather Virgil Buboltz, uncle Stephen Buboltz and many grand and great-grand parents.