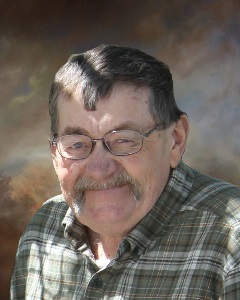 Service Information
Ivan Radloff, age 76, of Winthrop passed away Friday, September 2, 2022, at his home in Winthrop.
Funeral Service will be Saturday, September 10, 2022, 10:30 A.M. at Bernadotte Lutheran Church in Bernadotte Township, Nicollet County, Minnesota, with interment in the Winthrop Cemetery.
Visitation will be Friday, September 9, 2022, from 4:00 P.M.-7:00 P.M. at the Dalin-Hantge Funeral Chapel in Winthrop and will continue one hour prior to the service at the church on Saturday.
Military Honors by the Winthrop Honor Guard.
Visitation/Gathering
Dalin-Hantge Chapel
209 W 2nd Street
Winthrop, MN
Website:hantge.com
Service
Bernadotte Lutheran Church
34122 515th Avenue
Bernadotte Township, MN
Nicollet County
Funeral Chapel
Dalin-Hantge Funeral Chapel
209 West Second Street
Winthrop, MN 55396
Phone:(507) 647-5326
Cemetery
The Winthrop Cemetery
Winthrop, Sibley County
Winthrop, MN
Obituary
Ivan Melvin Radloff was born on April 6, 1946, in New Ulm, Minnesota. He was the son of Melvin and Mildred (Vogel) Radloff. Ivan was baptized on May 19, 1946, at the Essig Evangelical Reform Church in Essig and was later confirmed in his faith as a youth at the United Church of Christ. He received his education at country school and then in New Ulm and was a graduate of the New Ulm High School Class of 1965.
Ivan was drafted after graduation on November 24, 1965, and served his country in the United States Army in Vietnam. He was a truck driver and delivered supplies. Ivan received the National Defense Service Medal, Vietnam Service Medal, Vietnam Campaign Medal, Drivers Badge, Sharpshooter (Rifle M-14) and the Good Conduct Medal. He received his Honorable Discharge on November 23, 1971.
On September 1, 1972, Ivan was united in marriage to Kathy Wensauer at St. Paul's Catholic Church in Comfrey, Minnesota. After their marriage, the couple resided in Essig and moved to Winthrop in 1982. Ivan farmed with his father and was an independent milk hauler, hauling canned milk from the farmers to the Essig Creamery, retiring in 1978. He continued to farm at Essig and he milked cows most of his life. Ivan and Kathy were blessed with 3 children, Michelle, Shawn, and Kevin. They shared 50 years of marriage.
Ivan was a member of Bernadotte Lutheran Church, Bernadotte Township, Nicollet County.
Ivan enjoyed making cream puffs and potato pancakes. The kids always ended up doing the measuring and mixing while he supervised. Ivan collected Allis-Chalmers machinery. He was an ordinary man, living an ordinary life, doing what he loved.
Ivan passed away on Friday, September 2, 2022, at this home in Winthrop at the age of 76 years. Blessed be his memory.
Ivan is survived by his:
Wife,               Kathy Radloff of Winthrop, MN;
Children,          Michelle Kilanowski and her husband, Clint of St. Cloud, MN,
                        Shawn Radloff and his wife, Diane of Winthrop, MN, and
                        Kevin Radloff and his wife, Jennie of Gaylord, MN;
Grandchildren, Blake, Cody and Amber Kilanowski, August and Caleb Radloff, Weston and Ardynn Radloff;
Sister, Lila Liebl of Albert Lea, MN;
Brothers-in-law and Sisters-in-law, Joe and Laura Wensauer of Parkers Prairie, MN, Mary and Dale Wiegmann of Willmar, MN, Dave and Val Wensauer of Sacred Heart, MN, Barb and Joel Lingbeek of Renville, MN, and Pat Wensauer of Sleepy Eye, MN;
Nieces and Nephews.
Ivan was preceded in death by his Parents, Melvin and Mildred Radloff; Father-in-law and Mother-in-law, Ray and Agnes Wensauer; Brothers-in-law, Arnold Liebl and James Wensauer.