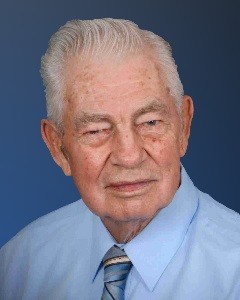 Service Information
Iven Alsleben, age 83, of Silver Lake, Minnesota, passed away on Saturday, July 2, 2016, at his home in Silver Lake. 
Funeral Service will be held Friday, July 8, 2016, at 11:00 A.M., at Peace Lutheran Church in Hutchinson, with interment at Peace Lutheran Cemetery in Hutchinson.
Visitation will be Thursday, 5:00 to 8:00 P.M. and Friday, 8:00 to 9:00 A.M., at Dobratz-Hantge Funeral Chapel and will continue one hour prior to the service at the church.
Military Honors are by Hutchinson Memorial Rifle Squad.
Visitation/Gathering
Dobratz-Hantge Chapel
899 Highway 15 South
Hutchinson, MN
Website:hantge.com
Service
Peace Lutheran Church
400 Franklin Street S
Hutchinson, MN
Funeral Chapel
Dobratz-Hantge Funeral Chapel
899 Highway 15 South
Hutchinson, MN 55350
Phone:(320) 587-2128
Cemetery
Peace Lutheran Cemetery (Hutchinson)
205th Drive
Hutchinson, MN
Obituary
Iven August Alsleben was born on March 2, 1933, at his family's farm near Green Isle, Minnesota. He was the son of Charles and Ella (Winter) Alsleben. Iven was baptized as an infant on April 7, 1933, at Zion Lutheran Church in Arlington, Minnesota. At the age of five, he moved to the farm five miles south of Hutchinson.  He was confirmed in his faith as a youth on March 30, 1947, at Peace Lutheran Church in Hutchinson. He received his education at Country School District #73 in Rural Hutchinson.
Iven entered active military service in the United States Army on May 1, 1953, in Minneapolis, Minnesota, and served his country during the Korean War. On October 16, 1953, Iven enrolled in parachute school and became a qualified parachutist. He received an Honorable Discharge on April 25, 1955, at Transfer Station Fort Lewis, Washington. Iven achieved the rank of Corporal (CPL T). He was honored with Parachutist's Badge, National Defense Service Medal, United Nations Service Medal, and Korean Service Medal.
On July 27, 1960, Iven was united in marriage to Dorothy Schmidt (Ulrich) in Mason City, Iowa. This marriage was blessed with two step children, Teresa and Warren.  Iven and Dorothy resided in rural Silver Lake. They shared almost 56 years of marriage.
Before entering the service, Iven was employed at Torrey's Direct Service Station (later became Hoel's Direct Service Station) in Hutchinson, at the age of 15 years. He then worked at BBB Manufacturing in Plato, Green Giant in Glencoe, Kraft Foods in Hutchinson, and Minneapolis Moline in Hopkins.  After returning home from the service, he went back to work for Minneapolis Moline until he started working for 3M in Hutchinson, on May 22, 1956, for nearly 35 years. He retired on June 1, 1990. Iven was a member of Peace Lutheran Church in Hutchinson, Minnesota. 
Iven enjoyed spending quality time with Dorothy. They worked together on the farm by Silver Lake and at 3M. He also enjoyed hunting, traveling, and fishing with Dorothy. He cherished spending time together at their lake home by Detroit Lakes. He especially enjoyed spending time with his family, grandchildren, great grandchildren and many friends.
Iven passed away peacefully on Saturday, July 2, 2016, at his home in Silver Lake, Minnesota, with his family at his side, at the age of 83 years.
Blessed be his memory.
Iven is survived by his:
Wife, Dorothy Alsleben of Silver Lake, MN;
Children, Teresa Olson and her husband, Gary of Cornville, AZ,
Grandchildren, Jessica Henke and her fiancé, Corey Carpenter, Justin Olson;
Great Grandchildren, Mason Nemitz, Kaylee Hable, Jada Henke, Donovan Olson, and Anthony Olson;
Sister, Shirley Burmeister and her husband, Melvin of Hutchinson, MN;
Sisters-In-Law, Mary Alsleben of Hutchinson, MN,
                             Elsie Alsleben of Hutchinson, MN,
                             Beverly Alsleben of Hutchinson, MN
Many other family members, nieces, nephews, cousins, and friends.
Iven is preceded in death by his, Parents, Charles and Ella Alsleben; Step Son, Warren Ulrich; Grandson, Travis Olson; Brothers, Melvin Alsleben, Roy Alsleben, Earl Alsleben; Sister, Rosella Hanson; Brothers-In-Law, Vernon Hanson, William Sandman.