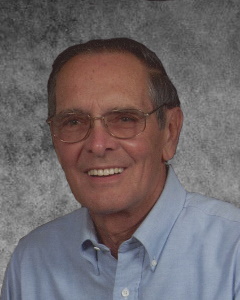 Service Information
Jack Schuster, age 90, Husband of Lorna, of Lake Stella, Rural Darwin, Minnesota, passed away Monday, July 4, 2022, at Meeker Memorial Hospital in Litchfield, Minnesota.
Celebration of Life will be held on Saturday, July 30, 2022, 11:00 A.M. at All Saints Lutheran Church in Darwin, Minnesota.
Gathering of Family and Friends will be held on Saturday, July 30, one hour prior to the service ALL at the church.
Visitation/Gathering
All Saints Lutheran Church
118 N 1st Street
Darwin, MN
Service
All Saints Lutheran Church
118 N 1st Street
Darwin, MN
Funeral Chapel
Hantge Funeral Chapel
100 First Street
Darwin, MN 55324
Phone:(320) 693-8710
Obituary
Norman Jack Schuster (known always and to all as Jack) was born on September 26, 1931 in Newton, Iowa. He was the son of John "Jack" and Mary Schuster. His family later moved to central Minnesota where he graduated from Glencoe High School in 1949. From 1951-1954, Jack proudly served in the United States Air Force, stationed in Germany.
On November 24, 1956, Jack was united in marriage to Lorna Marie Kraemer at First Lutheran Church in Glencoe, MN. Their marriage was blessed with three children: Steven, Paul, and Mary. Jack and Lorna raised their family and resided in Gaylord until 1987 when they moved to Lake Stella. They were devoted partners and parents throughout their 65 years of marriage.
Jack owned and operated Schuster Photography and then was hired as the City Administrator in Gaylord. He later worked as an insurance agent with Purple Cross. He was a member of All Saints Lutheran Church in Darwin, MN, and served on the church council and cemetery board. He also volunteered with the local lake association, enjoying and taking very seriously the job of measuring the lake level and water clarity. His sense of precision and attention to detail were unsurpassed.
Truly a Jack-of-all-trades, his interests and skills were wide-ranging, and his curiosity ran deep. Jack loved knowing how things worked and read extensively. He especially enjoyed gardening, bread-baking, and all things "lake life," particularly soaking up the sun on the back deck. He was tan until the very end. Red wine at happy hour and dessert after dinner were non-negotiable, usually accompanied by "Ahhhh, now that goes good!" A football fan, Jack remained loyal to his Vikings despite their inability to deliver him a championship. He always found great joy in spending time with his family, neighbors, and friends and was recognized and loved for his familiar laugh, genuine kindness, and easy sense of humor.
Jack was preceded in death by his parents, John and Mary; son, Steven; and brother, William. He is survived by his wife, Lorna, of Lake Stella, MN; daughter-in-law, Jamie Decker, of Powell, WY; grandchildren Chelsea Snuttjer (Mike), Ashley Resavy (Bill), and Kaydee Jurado (Marco); son, Paul, and his wife, Randa, of Deephaven, MN; grandchildren Jordan and Jack; daughter, Mary Anderson, and her husband, Bob, of Hopkins, MN; grandchildren Megan, Rachel, Tyler, and Olivia; 7 great-grandchildren; sister-in-law, Lucille Kraemer, of Glencoe, MN.
Jack's family is very appreciative of the care and kindness he received from CentraCare Dialysis Litchfield, DAV Hutchinson, Meeker Manor, and Meeker Memorial Hospital. They are grateful to the friends and neighbors whose day-to-day help blessed Jack and Lorna with more days at home than they would have thought possible.
In lieu of flowers, donations preferred to Disabled American Veterans, Hutchinson, MN or All Saints Lutheran Church in Darwin.