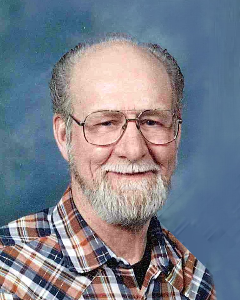 Service Information
Jim Klopp, age 83, of Glencoe, Minnesota, passed away on Wednesday, July 27, 2016, at his home in Glencoe, Minnesota. 
Private Family Graveside Service.
Funeral Chapel
Johnson-McBride Funeral Chapel
1222 Hennepin Avenue
Glencoe, MN 55336
Phone:(320) 864-3737
Obituary
James Harry Klopp was born on November 5, 1932, in Fairmont, Minnesota.  He was the son of Harry and Elizabeth (Schultz) Klopp.  Jim received his education in Fairmont and later enlisted in the U.S. Army in 1954 serving our country in Germany.
On April 19, 1953, Jim was united in marriage to Mary Daleske at St. Peter's Lutheran Church in Ceylon, Minnesota. The couple was blessed with two sons, Otto and David, they shared over 63 years of marriage. Jim and Mary lived in the communities of Ceylon, Blue Earth, Brownton and settled in Glencoe. 
While serving in the Army, Jim began to work as a mechanic and never stopped.  After returning he worked at Standard Oil, Harpel Brothers, the Ford Garage, Seneca, Forest Time Products and Lemke Welding.  Jim's love of cars and motors was evident not only at work but also at home, he always had a motor that he was working on in the driveway or another vehicle needing painting.
Jim passed away at his home in Glencoe on July 27, 2016, at the age of 83 years, 8 months and 22 days. 
Blessed be his memory.
Jim is survived by his:
Wife, Mary Klopp of Glencoe;
Sons, Otto Klopp and his wife, Patti, of Glencoe,
           David Klopp and his wife, Robin, of Hutchinson;
Grandchildren, Crystal Gwynn of Hutchinson,
                             Trevor Klopp of Minneapolis,
                             Logan Klopp of Hutchinson;
Brother, Allen Klopp of Fairmont;
Sister-in-law, Delores Daleske of Trimont;
Brother-in-law, Martin Rettig of Alexandria;
Nieces, Nephews, Other relatives and many friends.
Jim is preceded in death by his Parents, Harry and Elizabeth Klopp; Father and Mother-in-law, Otto and Edna Daleske; siblings, Bob, Ray, Gert, Clara Mae, Helen Jean; Brother-in-law, Karl Daleske; Sister-in-law, Lucille Rettig.