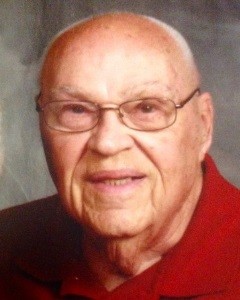 Service Information
James "Jim" F. Weis, age 89, of Phoenix, Arizona, formerly of Glencoe, passed away Friday, July 17, 2015, at the Hospice of the Valley Lund Home in Gilbert, Arizona.
Mass of Christian Burial will be held Saturday, August 1, 2015, at 11:00 A.M. at St. Boniface Catholic Church in Stewart, with interment in the Church Cemetery. Military Honors will be provided by the Glencoe American Legion Post 95.
Gathering of Family and Friends will be held Friday from 5:00 – 7:00 P.M. at the Hughes-Hantge Funeral Chapel in Stewart, and will continue for one hour prior to the Mass at Church on Saturday.
Memorials preferred to Hospice of the Valley Lund Home in Gilbert, Arizona or a charity of your choice.
Visitation/Gathering
Hughes-Hantge Chapel
805 Powers Street
Stewart, MN
Website:hantge.com
Service
St. Boniface Catholic Church
551 Main Street
Stewart, MN
Funeral Chapel
Cemetery
St. Boniface Catholic Cemetery (Stewart)
McLeod County, Round Grove Twp, Section 5
Stewart, MN
Obituary
James Francis Weis was born Jan. 29, 1926, in Stewart, Minnesota, to Herman and Anna Weis. He was baptized and confirmed at St. Boniface Catholic Church in Stewart. At 17, Jim enlisted in the U.S. Navy, and served three years during World War II. He then graduated from Minneapolis Vocational School in 1950.
On Nov. 11, 1950, Jim was united in marriage to Virginia Maiers at St. Boniface.
Jim set up shop in Stewart in 1950 before he moved Weis Upholstery to Glencoe five years later. He and Ginny also moved to Glencoe, where they raised their five children. People came from surrounding communities because they knew they were going to get great quality for a fair price from an honest man. His word and his handshake were golden. For 27 years, Jim also drove a school bus for the Glencoe School District. In 1992, Jim retired and closed Weis Upholstery. He and Ginny began spending extended time in Arizona during the winter before they moved to the Southwest full time in 2003. 
Jim was a humble, dignified man. He never met a stranger. Jim could sit down and talk to anybody. He loved his retirement years, especially his patio that faced a golf course and his golf cart.  In 2008, Jim was among aging veterans, who had left school to go to war and never got to walk at their graduation, invited by Hamilton High School to march at its graduation and receive a diploma.
Jim was a member of St. Pius Catholic Church in Glencoe for 40 years.  He was a member of Knights of Columbus, Glencoe American Legion Post 95, De Gree-Fleisch American Legion Post 125 of Stewart, and Disabled American Veterans of Hutchinson.
Jim and Ginny loved to travel.  Fishing was among Jim's favorite pastimes.  He cherished his children and grandchildren.
On Friday, July 17, 2015, Jim passed away at the Hospice of the Valley Lund Home in Arizona at 89.  Blessed be his memory.
Jim is survived by his wife, Virginia Weis, of Phoenix, Arizona; children, Kathy Webb (Art Husband) of Birmingham, Alabama, Jim P. Weis of Brownton, Minnesota, Bill Weis (Evie) of Pelican Rapids, Minnesota, Mary Winkel (Joe) of Windsor, California, and Patty Shappell (Lee) of  Phoenix Arizona; grandchildren: Matthew Webb (Yonghee),  Sarah Guidry (Jonathan), Jacob Weis,  Chad Weis, Nathan Weis (Mindy),  Bryan Kruger (Amanda), Daniel Kruger,  Samuel Winkel ( Sarah), Michaela Winkel, Hannah Shappell, Zachary Shappell; great-grandchildren: Garrett Weis, Loralei Weis, Finn Kruger, Addison Guidry; brothers-in-law and sisters-in-law: Margaret Maiers, Stan Maiers, Jeanine Maiers, Therese Kuttner, Sr. Gen Maiers, Allan and Phyllis Maiers, Brennan Maiers, Sr. Gracemarie Maiers, Maureen Rubishcko  and Judy Maiers ; many nieces, nephews, other relatives, and friends.
Jim was preceded in death by his parents, sisters Marie Hill (Frances) and Louise Kielblock, father-in-law and mother-in-law Henry and Grace Maiers, and by his brothers-in-law and sisters-in-law: Sr. Mary Jean Maiers, Daniel Maiers, Paul Maiers, Joe Maiers, Sally Maiers, Jack and Dottie Maiers, Loy and Lucille Maiers, Ray and Dolly Maiers, Brenda Maiers, and Patrick Maiers.