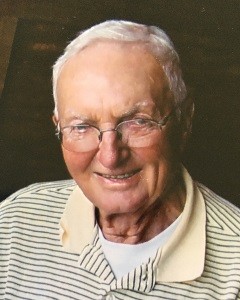 Service Information
Jim Schwarze, age 91, of Glencoe, Minnesota, passed away Saturday, October 7, 2017, at his home in Glencoe, Minnesota.
Memorial Services will be held Saturday, October 14, 2017, 11:00 A.M. at Good Shepherd Lutheran Church in Glencoe, Minnesota, with interment at Glencoe City Cemetery.
Visitation will be held Friday, October 13, 2017, from 4:00-7:00 P.M. and will continue one hour prior the service all at the church.
Visitation/Gathering
Good Shepherd Lutheran Church
1407 Cedar Avenue N
Glencoe, MN
Service
Good Shepherd Lutheran Church
1407 Cedar Avenue N
Glencoe, MN
Funeral Chapel
Johnson-McBride Funeral Chapel
1222 Hennepin Avenue
Glencoe, MN 55336
Phone:(320) 864-3737
Cemetery
Glencoe City Cemetery
301 Chandler Ave. N
Glencoe, MN
Obituary
James Milton Schwarze was born on May 1, 1926, in Glencoe, Minnesota.  He was the son of Milton and Caroline (Grenke) Schwarze.  James was baptized as an infant and later was confirmed in his faith as a youth at Sumter Methodist Church.  He attended rural school in Sumter Township until he enrolled at Brownton High School where he graduated in 1943.  In 1944, at the age of 17, Jim enlisted in the United States Navy where he served until 1946.  His enlistment opened many opportunities to proudly serve his country in World War II, both in gunner training and in air patrols along both coasts.  In the waning months of the war, he did ship board duty with the Occupational Forces, traveling to Japan and China seeing the destruction of the war.  After his honorable military discharge, Jim returned home and soon began operating his Grandfather Grenke's farm in Sumter Township.
On June 25, 1950, Jim was united in marriage to Shirley Wegner at Immanuel Lutheran Church in Brownton, Minnesota.  Together Jim and Shirley managed the farm for 47 years.  They celebrated 67 years of love and companionship together.  Their marriage was blessed with three children, Barry, Julie and Steven.
During Jim's early farming days, he served on the board of Federal Land Bank, Brownton Creamery, church council and was a member of the Western Mounted Paraders Saddle Club.  Following retirement, Jim and Shirley enjoyed learning by traveling the USA and overseas.  In 2011, the couple left the farmhouse memories to move into a Glencoe townhouse. 
Jim enjoyed reading, crossword puzzles and his morning coffee with friends.  He was a faithful walker for years at the Panther Center.  Family was important to Jim, and he and Shirley traveled often to visit them.
Jim passed away after a courageous fight with ALS on Saturday, October 7, 2017, at his home in Glencoe, Minnesota, at the age of 91 years, 5 months and 6 days.  Blessed be his memory.
Jim is survived by his:
Wife, Shirley Schwarze of Glencoe, MN;
Children, Barry (Evon) Schwarze, Biscay, MN,
Julie Smith, Sterling, ND,
Steven (Caryn) Schwarze, Missoula, MT;
Grandchildren, Nathan (Katie) Schwarze, Eric Schwarze, Caitlyn Schwarze, Ryan Brelje, Michael (Mariana) Hatten, Sean Hatten, Charles Schwarze, Molly Schwarze;
Great Grandchildren, Taylor Schwarze, Parker Schwarze, Ashton Hatten, Liam Hatten, Chelsae Wilson, Koley Brelje;
Brother, Bill (Liz) Schwarze, Lester Prairie, MN;
Sisters-in-law, Dorothy Schwarze, Hutchinson, MN,
Carol (Paul) Anderson, Duluth, MN;
Nieces, Nephews, other relatives and many friends.
Jim is preceded in death by his Parents, Milton and Caroline Schwarze; Brother, Bob Schwarze; Father and Mother-in-law, John and Eleanor Wegner; Brothers-in-law, Donald Wegner and his wife, Margie, Adrian Wegner and his wife, Renola; Nephew, Scott Anderson.
Memorial tributes may be made to ALS Association, MN/ND/SD Chapter, 333 N. Washington Ave., Suite 105, Minneapolis, MN 55401, or your choice of charity.