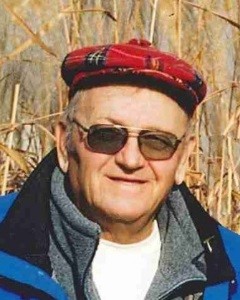 Service Information
James Schafer, age 82, of Buffalo Lake, passed away Tuesday, September 12, 2017, at the Hutchinson Health Hospital in Hutchinson, Minnesota. 
Memorial Service will be held Monday, September 18, 2017, at 11:00 A.M. at the Zion United Methodist Church in Buffalo Lake.
Gathering of Family and Friends will be held on Sunday, September 17, 2017, from 3:00 – 6:00 P.M. at Zion United Methodist Church in Buffalo Lake, and will continue on Monday for one hour prior to the service, all at the church.
Visitation/Gathering
Zion United Methodist Church
306 NW 2nd Street
Buffalo Lake, MN
Service
Zion United Methodist Church
306 NW 2nd Street
Buffalo Lake, MN
Funeral Chapel
Hughes-Hantge Funeral Chapel
311 Main Street S.
Hector, MN 55342
Phone:(320) 848-6297
Obituary
James Oliver Schafer was born June 13, 1935, on the Schafer family farm in Martinsburg Township, Renville County, Minnesota, the son of Oliver and Harriet (Oehler) Schafer. He was baptized October 17, 1935, at the Zion United Methodist Church in Buffalo Lake, and confirmed in his faith there on April 6, 1947. Jim's understanding of agriculture and his love of the land was nurtured by his parents as he grew up on the farm south of Buffalo Lake. He received his education at the Buffalo Lake  School, and graduated with the Class of 1953.
On September 24, 1955, Jim was united in marriage to Marilyn Prodoehl at the Evangelical Church in Olivia. The couple made their home in rural Buffalo Lake where they farmed and raised their five children. Jim and Marilyn had shared 52 years of marriage when Marilyn passed away on March 22, 2008. Jim continued living on the farm, and moved into Buffalo Lake in 2016.
Throughout his years, farming was Jim's livelihood. His love for the land and wildlife blended with his farming operation, and conservation was a main focus. He utilized his concerns with conservation by serving on the Renville County Soil and Water Conservation board, and in 1979 served as the State president. In 1979 he received the Minnesota Farmer-Sportsman of the Year award recognizing him as the state's top conservationist, and was also given the WCCO Good Neighbor award. He also held the position of Conservation Supervisor in Renville County. To enforce his belief in wildlife conservation, he was a Firearms Safety instructor for over 50 years. He was a member of the Buffalo Lake Rod and Gun Club and the local Lions Club. As his children grew, Jim was involved as a 4-H leader for the Buffalo Lake Onwards. Jim's love for animals showed in the many pets he raised throughout his life, including dogs, crows, owls, rabbits, raccoons, opossums, a skunk, and a deer, to name a few. Jim and Marilyn started the Schafer Berry Farm on the home place. They planted and cared for strawberries and raspberries, running it as a "Pick Your Own" business. They grew cucumbers and picked them for the Gedney Pickle Company. He also planted many apple trees and asparagus on his land, and enjoyed riding his 4-wheeler around the farm to check on the fruits of his labor.
Early Tuesday morning, September 12, 2017, Jim passed away at the Hutchinson Health Hospital, having reached the age of 82 years. Blessed be his memory.
James is survived by his:
Children:         Dawn Tessmer of Minneapolis,
                        Robin Henderson and her husband Mark of Granite Falls,
                        Teal Schafer and his wife Jana of Hector,
                        Wren Feyereisen and her husband Mark of Chanhassen, and
                        Spring Scocozza and her husband John of New Palestine, Indiana;
Grandchildren: Kyle Henderson, Jacob Henderson, Brook (Cory) Mead, Skyler (Samantha) Schweiss, Claya Schafer, Willow Schafer, Megan Feyereisen, Emily Feyereisen, Shelby (Jason) Borthwick, and Jordan Scocozza; 
Great-Grandchildren: Esme Mead, Elsie Schweiss, and Scarlett Borthwick;
Siblings: Ruthann Giraud of Urbandale, Iowa, and Julie (Rodney) Johnson of Two Harbors, Minnesota;
Significant Other, Norma Syverson of Buffalo Lake;
Jim was preceded in death by his parents, wife Marilyn, sister Kay Sorenson and her husband Thomas, and his brother-in-law Douglas Giraud.