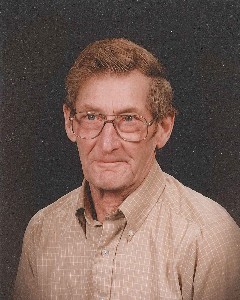 Service Information
James "Pete" Petersen age 82, of Winthrop, passed away Monday, August 17th, 2015 at the Good Samaritan Society in Winthrop.
Memorial Service will be Saturday, August 22nd, 2:00 P.M. at Peace Lutheran Church in Winthrop with interment at a later date.
Gathering of Family and Friends will be Friday, August 21st, from 4:00 P.M.-7:00 P.M. at Peace Lutheran Church in Winthrop. Visitation will continue one hour prior to the service at the church on Saturday.
Military Honors by the Winthrop Honor Guard.
Visitation/Gathering
Peace Lutheran Church
413 W 5th Street
Winthrop, MN
Service
Peace Lutheran Church
413 W 5th Street
Winthrop, MN
Funeral Chapel
Dalin-Hantge Funeral Chapel
209 West Second Street
Winthrop, MN 55396
Phone:(507) 647-5326
Obituary
James "Pete" Robert Petersen was born on June 24, 1933, in Marshall, Minnesota. He was the son of Hans Christian and Lillian (Laabs) Petersen. Pete was baptized as an infant on September 13, 1933, in Marshall, Minnesota, and was later confirmed in his faith as a youth on June 27, 1948, at St. John's Lutheran Church in Milroy, Minnesota. He received his education in Milroy, Minnesota, and was a graduate of the Milroy High School.
Pete enlisted in the United States Air Force on December 11, 1951, and served his country during the Korean War. He received his Honorable Discharge on December 11, 1955.
On December 17, 1955, Pete was united in marriage to Ruth Champagne in Lincoln, Michigan. After their marriage the couple resided in Michigan, West Virginia, Ohio, California, Wisconsin, and Minnesota. He was employed as a mechanic, truck driver, assistant manager at a gas station, bought and operated a Standard Oil Station in Milroy and later sold it to his brother and purchased a Standard Oil Station in Winthrop and later sold it. He then opened the Petersen Outdoor Equipment business selling motorcycles, snowmobiles, lawnmowers, snow blowers and repaired all types of motorcycles and small engines. He drove school bus for GFW for 30 years. Pete and Ruth were blessed with six children and they shared 59 years and eight months of marriage.
Pete was a member of Peace Lutheran Church in Winthrop, a life member of the Winthrop Game Protective League, and a former member of the Booster Club.
Pete loved motorcycle riding, camping, and hunting. He was always ready for a card game. He loved spending time with his family, especially his children and grandchildren.
When he needed assistance with his daily care, Pete became a resident of the Good Samaritan Society in Arlington and passed away there on Monday, August 17, 2015, at the age of 82 years. Blessed be his memory.
Pete is survived by his:
Wife,                Ruth Petersen of Winthrop, MN;
Children,           Juanita (Phil) Shreves of St. Matthews, SC,
                        Twins, Debra Paez of Rapid City, SD,
                        Twins, Peggy (Richard) Hoyer of Warrensburg, MO,
                        Pamela Petersen of Cokato, MN,
                        Michael (Beth) Petersen of Willmar, MN, and
                        Steven (Pam) Petersen of Medical Lake, WA;
Grandchildren, Jennifer Shreves, Michelle Shreves, Richard (Tiffani) Paez, Robert (AnnaLisa) Paez, Lynn (Justin) Lowe, Lisa (Sean) Brown, Tina Petersen, Victoria (Chris) Fall, Andrew Petersen, Nicholas Petersen, Jessica Petersen, Steven Petersen Jr., Samuel Petersen, Dallas Petersen, Rachel Petersen;
Great-Grandchildren, Cheyenne Shreves, Abby Shreves, Zachary Shreves, Ryan Carter, Christopher Carter, Austin Lowe, Taylor Paez;
Sisters, Marjorie (Marvin) Oberg of Milroy, MN, and Catherine Petersen of St. Paul, MN;
Brother, Duane Petersen of Marshall, MN;
Sister-In-Law, Leona (Gordon) Fox;
Brother-In-Law, Fred (Linda) Champagne;
Nieces, Nephews, Other relatives and friends.
Pete was preceded in death by his Parents, Hans and Lillian Petersen; Father-In-Law and Mother-In-Law, Lawrence and Edna Champagne; Sister-In-Law, Shirley Petersen; Step-Granddaughter, Heidi Hinde; Great-Granddaughter, Kimberly Ruth Carter.