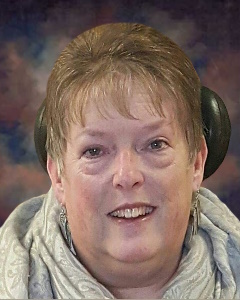 Service Information
Jeri Jo Redman, age 64, of Hutchinson, Minnesota, passed away on Sunday, February 5, 2023, at Meeker Manor in Litchfield, Minnesota. 
A memorial gathering to celebrate Jeri Jo's life is planned for summer 2023 near her beloved Crow River.
Funeral Chapel
Dobratz-Hantge Funeral Chapel
899 Highway 15 South
Hutchinson, MN 55350
Phone:(320) 587-2128
Obituary
Jeri Jo Redman, 64, of Hutchinson, Minnesota passed away on Sunday, February 5, 2023, at Meeker Manor in Litchfield, Minnesota.
Jeri Jo Alma Redman was born September 10, 1958, to Lawrence and June (Zavoral) Redman of Hutchinson. After graduating from Hutchinson High School in 1976, she worked as an administrative assistant in Hutchinson and the Twin Cities. She attended Normandale Community College and graduated in 1992.
Jeri Jo's father died when she was just 13 years old. She and her colorful mother, June, were great friends. When her mother's health began to fail, Jeri Jo put aside her own life to care for her until she passed in 2010.
Jeri Jo was diagnosed with rheumatoid arthritis as a young woman. Eventually, she lost the ability to walk, lost movement and strength in her arms, and her hands were increasingly crippled. Swallowing became difficult and she was always in pain. She required a power wheelchair and 24-hour care. Her health was precarious for years due to her immobility and compromised immune system, resulting in many frightening, frustrating stays in hospitals and nursing homes.
More than anything, she wanted to continue to live in her home, a tiny apartment in Park Towers. Her independence depended entirely on her personal care attendants; they were her life force. Unfortunately, the work of a PCA is hard and the pay is small, so it was a constant struggle to maintain the care she needed. Even so, several of her PCAs became dear friends.
Jeri Jo loved animals and she had tiny dogs in her life for many years. Tia, Ava, and Mikka brightened her days. She soaked up their unconditional love and spoiled them unabashedly. Jeri Jo enthusiastically supported animal rescue. Memorials in her name can be made to the Heart of Minnesota Animal Shelter in Hutchinson.
Jeri Jo loved to be outdoors, so she was a familiar sight zooming around town in her wheelchair. She so enjoyed greeting people and her zest for life was contagious. Nature was her passion, and she was proud to be a Minnesota Master Naturalist. Her favorite place was along the Crow River. She took photos that she shared in a blog about her observations: https://jjsminnesotamasternaturalistblog.blogspot.com/
When bad weather trapped her indoors, she kept busy with her many other interests. The computer was her connection to the world. She researched her ancestry and preserved her family keepsakes and stories. She was committed to studying and sharing the history of Hutchinson. She was actively involved with the Hutchinson Center for the Arts. When she could no longer do quilting, she still planned projects and friends helped her do the work.
Despite her disabilities, her pain, and her sorrows, Jeri Jo loved life and lived it to the fullest. She shared her heart in another blog that anyone who cared about her should read: http://dreamweaversheart.blogspot.com/
Jeri Jo's final illness included pneumonia and an inability to receive nutrition even through tube feeding. She was transferred from the hospital in St. Paul to the nursing home in Litchfield to rest and gain strength for surgery, but she passed quietly. Despite her poor health, her death was unexpected for those who loved her. She never lost her positive, fighting spirit.
Jeri Jo described herself as follows: "I am passionate for anything in nature and have fallen in love with flower gardening. Give me a camera and I'll be content for hours. Give me a book and I will be filled. Find me in the presence of a dog and you will see pure love. Give me time spent in intelligent, stimulating conversation and I'll be blessed. Give me your friendship, love, time and attention and I will fully be. Most importantly, give me laughter and I am healed."
Jeri Jo was preceded in death by her parents, Larry and June Redman. She is survived by her brothers and their families: Randy (Becky) Redman and Mark (Julie) Redman; her nieces and nephews, Misty (Bjoern) Oppenkowski, Cody Redman, Elizabeth (Brandon) Neseth, Kayleen Redman; her great-nieces and nephews, Emery Oppenkowski, Linden Oppenkowski, Reagan Neseth, Sloane Neseth, and Audric Neseth; cousins; and many friends.