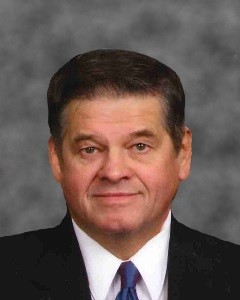 Service Information
Jerome "Jerry" Swenson, age 71, of Hutchinson, Minnesota, Husband of Karen Swenson, passed away on Tuesday, August 30, 2016, at the Hennepin County Medical Center in Minneapolis, Minnesota.
Funeral Services will be held Tuesday, September 6, 2016, from 11:00 A.M., at Faith Lutheran Church in Hutchinson, with interment in Oakland Cemetery.
Visitation will be held Monday, September 5, 2016, from 5:00 – 8:00 P.M., and Tuesday from 8:00- 9:00 A.M., at the Dobratz-Hantge Funeral Chapel in Hutchinson, and will continue at Faith Lutheran Church for one hour prior to the service.
Military Honors by the Hutchinson Memorial Rifle Squad.
Visitation/Gathering
Dobratz-Hantge Chapel
899 Highway 15 South
Hutchinson, MN
Website:hantge.com
Service
Faith Lutheran Church
335 Main Street S
Hutchinson, MN
Funeral Chapel
Dobratz-Hantge Funeral Chapel
899 Highway 15 South
Hutchinson, MN 55350
Phone:(320) 587-2128
Cemetery
Oakland Cemetery
805 Hwy 15 South
Hutchinson, MN
Obituary
Jerome "Jerry" Keith Swenson was born on November 4, 1944, in Litchfield, Minnesota. He was the son of Waldemar O. and Valborg E. (Fosso) Swenson. Jerry was baptized as an infant and was later confirmed in his faith as a youth in Litchfield, Minnesota. He received his education in Litchfield, Glenwood, and Hutchinson. He was a 1962 graduate of the Hutchinson High School.
On August 17, 1965, Jerry entered active military service in the United States Navy and served his country during the Vietnam War. He was stationed at USNS Sangley Point, Philippines, for nearly three years.  Jerry received the National Defense Service Medal and the Vietnam Service Medal. He was Honorably Discharged on August 16, 1968.
On July 9, 1966, Jerry was united in marriage to Karen Markgraf at the Roman Catholic Cathedral of Imus, Cavite, Luzon, Republic of the Philippines, where Jerry was serving in the Navy. After his discharge, the couple resided in Hutchinson. Jerry was a realtor for Swenson Realty in Hutchinson, manager for Total Mart, worked at HTI, and also was a part time farmer. Jerry and Karen were blessed with five children and they shared 50 years of marriage.
Jerry was a member of Faith Lutheran Church, the American Legion Post #96, and a past member of the VFW Post #906 and 40 and 8 in Hutchinson.
Jerry enjoyed baking, cooking, especially making pancakes for his grandchildren, fishing, and hunting. He cherished the time he spent with his family, especially his children and grandchildren.
Jerry passed away on Tuesday, August 30, 2016, at Hennepin County Medical Center in Minneapolis of a stroke at the age of 71 years.
Blessed be his memory.
Jerry is survived by his:
Wife,                Karen Swenson of Hutchinson, MN;
Children,        Andrea Moore and her husband, Eric of Hutchinson, MN,
                        Jim Swenson of Appleton, WI,
                        Joseph Swenson and Mary Thoele of Arlington, MN,
                        Jonathan Swenson and his wife, Andrea of Bird Island, MN, and
                        Justin Swenson and Tiffany Hopkins of Hutchinson, MN;
Grandchildren, Crystal (Josh) Olson, Cassandra Moore (fiancé, Jaedon Scott), Mitchell Moore (fiancée, McKenzi Scott), Micayla Moore, Alex (Allie) Swenson, Blake Swenson, Reed Swenson, Mason Kopel, Lillianna Swenson, Codey Houdek, Elijah Swenson, Aden Swenson;
Great-Granddaughter, Avery Schiller;
Siblings, Sharon Stetzler of Rochester, MN, C.L. "Chip" (Sherry) Swenson of Rochester, MN, George Swenson of FL;
Many other relatives, in-laws and friends.
Jerry was preceded in death by his Parents, Waldemar and Valborg Swenson; and Brother, Gary Gene in infancy; Father and Mother-In-Law, Carl and Rose Markgraf.