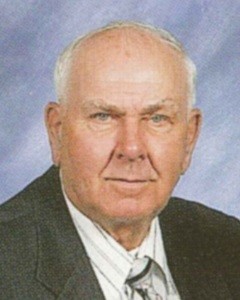 Service Information
Jim Dvorak, age 81, of Cosmos, passed away Friday, May 15, 2015, at the Cedar Crest Estate in Cosmos.
Funeral Service will be Tuesday, May 19, 2015, at 11:00 A.M. at Peace Lutheran Church in Cosmos, with interment in Cosmos Community Cemetery.
Military Honors will be provided by the Beack Thompson American Legion Post 126 of Cosmos.
Visitation will be held Monday from 4:00 – 7:00 P.M. at Peace Lutheran Church in Cosmos, and will continue for one hour prior to the Service on Tuesday.  
Visitation/Gathering
Peace Lutheran Church
140 Saturn Street N
Cosmos, MN
Service
Peace Lutheran Church
140 Saturn Street N
Cosmos, MN
Funeral Chapel
Hughes-Hantge Funeral Chapel
311 Main Street S.
Hector, MN 55342
Phone:(320) 848-6297
Cemetery
Cosmos Community Cemetery
12966 545th Ave
Cosmos, MN
Obituary
     Jim Dvorak was born September 3, 1933, to Joe and Rose (Lange) Dvorak in the tiny village of Corvuso.  His parents, brother Frank, and Jim moved to Cosmos in 1935, opening the family business known as the Dvorak Machine Shop.  This is where Jim's knowledge of the mechanic and machine trade began.  Jim's education went to the 8th grade level, and was solely done at the school located near downtown Cosmos.  He was confirmed in the Methodist faith as an adult in Cosmos.  
     In 1953 Jim entered the U.S. Army, serving his country in Germany.  He was honorably discharged in 1955, and upon coming home, went back into the mechanic field.  Jim loved this country, and was a member of the Beack Thompson American Legion Post 126 in Cosmos.  Dad proudly wore a cap that signified him being a US Veteran.  If we would be at a flea market or car show and got separated, Dad most definitely would be found talking to fellow Veterans also proudly wearing their caps.  Anyone watching from afar could see the connection of pride that clearly showed in their comradery. 
     1953 was also when Jim met his future wife, Marian Gorr.  They were married in 1956, building their home in Cosmos and successfully doing business in his own shop, known as Jim's Motor Shop.  He was a great mechanic and shared his trade teaching and guiding many young men in the community.  In 1974, Jim designed, developed, and patented "The Uni-Hydro Ironworker."  This business took Jim and Marian around the world promoting "The Ironworker" in places such as Egypt, Europe, Japan, Taiwan, and all the domestic states.   The Ironworker that bears Jim's name is American made, and each machine proudly wears the American flag as well.  Jim's inventions will be around for years to come, and each will carry the "Cosmos" name.  Jim always appreciated the people that worked for and with him.  All Uni-Hydro employees were family, and his sincere love and care for them was immense.  
     Throughout his life, Jim overhauled many cars, tractors, and trucks.  He helped many people using "Ole Betsy," his trusty wrecker.  The many meals that were served at his table while Jim fixed vehicles just to help families get back on the road for a family emergency, vacation, or whatever, were uncountable.    From clothing to food, toys, or a place to stay warm for the night, when in need, he gave.  To share was Jim's pleasure. 
     Jim's love for his family was top priority. Though Jim worked hard like many a man; he spent an hour over noon lunch and suppertime to play with his children.  Sunday afternoons were always family time. 
     He spent a lot of time with his grandchildren.  He was so proud to teach them to weld, solder, and create; their finest being a go-kart!   His love of cars and motorcycles meant spending a lot of time at the races.  Great fun!  As his Great-Grandchildren came into his life, it was the mini-bike rides or just toot'n around together on the lawn mower. 
     In 1985, Jim was diagnosed with Chronic Lymphocytic Leukemia.  It was at this time Jim chose to turn the business operation over to his son, Chuck Dvorak.  He and Marian were off to find someone who had a cure for this cancer, and was determined not to let it beat him.  His motto was "It came and it can go."
     Jim "walked the walk" in his life, living what he preached: honesty, integrity, and hard work.  
     Jim passed away Friday morning, May 15, 2015, at Cedar Crest Estate in Cosmos, having reached the age of 81 years.   Blessed be his memory. 
     Jim is survived by his: 
Children:  Chuck Dvorak and his wife Cindy of Cosmos, Minnesota, and Carolyn Kurth and her husband Rodney of Hutchinson, Minnesota;
Grandchildren: Shawn Baker and his wife Melissa of Des Moines, Iowa, Chris Baker of Otho, Iowa, Natasha Thompson and her husband Seth of Cosmos, Minnesota, Andrew Kurth and his wife Andrea of Hutchinson, Minnesota, Phillip Kurth and his wife Alyssa of Cosmos, Minnesota,  Daniel Kurth and his girlfriend Ally Kirchhoff of Hutchinson, Minnesota, Stephanie Mielke and her husband Phillip of Hutchinson, Minnesota; 
Great-grandchildren:  Christopher Baker, Jamison Baker, Alexander Baker, Isabelle Baker, Kourtney Mielke, Phillip Mielke, Aceson Kurth, Axton Kurth, Jaxson Kurth; 
Brother: Frank Dvorak and wife Shirley of Lakeland, Florida, and their family;
Sisters-in-law:  Evie Meyer of Buffalo Lake, Minnesota, Vera Meyer of Hutchinson, Minnesota, Judy Gorr of Hutchinson, Minnesota, Glenda Petersen of Lakeville, Minnesota;
Nieces, Nephews, other relatives, and friends. 
Jim was preceded in death by his Parents, Joe and Rose Dvorak, infant Sister, Wife Marian on May 1, 2015, and his Mother-in-law and Father-in-law, Charley and Gustie Votava.