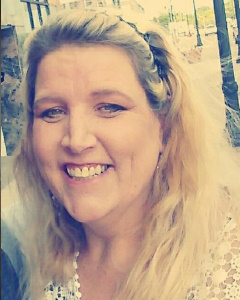 Service Information
Jodi Lynn Christensen, age 55, of Glencoe, Minnesota, passed away Monday, October 9, 2023, at The Terrace at Crystal in Crystal, Minnesota.
A Remembrance of Life Celebration will be held Saturday, October 28, 2023, from 3:00-6:00 P.M., at the Brownton Rod and Gun Club. (19151 108th Street, Brownton MN, 55312)
Funeral Chapel
Johnson-McBride Funeral Chapel
1222 Hennepin Avenue
Glencoe, MN 55336
Phone:(320) 864-3737
Obituary
Jodi Lynn Christensen was born in Glencoe, Minnesota on March 22, 1968, to Donald and Phyllis (Henschel) Christensen. She attended Glencoe Public Schools and graduated with a photography degree from Ridgewater College in Willmar.
Jodi had many jobs throughout the years and loved working with people. She quickly formed friendships while working at Averyon Homes and several local restaurants. She helped care for her Grandmother, Dorothy for some time. She enjoyed driving cool cars that caught people's eye and collecting eccentric decor and clothing. Her greatest accomplishment was bringing three beautiful children into the world, her daughters, Desiree Rose and Zoe Rain, and her son, Gabriel Donald. Jodi loved being surrounded by friends, helping the underdog, and taking on a challenge.
Unfortunately, Jodi struggled with chemical dependency. She had a difficult time rehabilitating after surviving domestic violence. Although strides were achieved in her recovery, Jodi succumbed to alcohol-induced cirrhosis of the liver on October 9, 2023. We share this to remind others that they are not alone and that those who are troubled are loved, too. Jodi was loved, Jodi was a talented human being with a big heart who wanted to live life. In honor of Jodi and her children, take care of yourself and those you love. She will be remembered for her big laugh, her funny jokes, her creativity, and especially for the three beautiful souls she left on this earth. May she rest in true peace.
Jodi is survived by her
Children, Desiree (Avery) Dressler, Zoe (Xavier) Carrasco, and Gabriel Christensen;
Mother, Phyllis Christensen;
Brothers, David Christensen and Chad Christensen;
Aunts, Marlys (Howard) Hoecke and Judy Tessmer;
Nephews and Nieces, Stevie, Sheila, Taylor, Tony, Hailey, Aiden, Joselynn, Reggie, Sean, Ari, Ava;
Many other relatives and friends.
Jodi was preceded in death by her father, Donald Christensen; grandparents, Harvey and Mildred Henschel, and Hans and Dorothy Christensen.