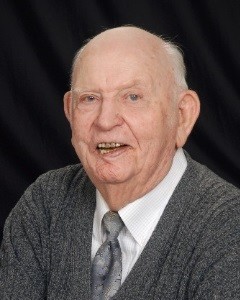 Service Information
Donald Anderson, age 94, of Buffalo Lake / Hector, passed away Sunday, February 08, 2015, at the Renville County Hospital.
Funeral Service will be held Friday, February 13, 2015, at 11:00 A.M. at St. Paul's Lutheran Church in Hector, with interment in the Church cemetery.
Visitation will be held Thursday from 5:00 – 8:00 at the Hughes-Hantge Funeral Chapel in Hector, and will continue for one hour prior to the service at the Church on Friday.
Memorials are requested to St. Paul's Lutheran Church in Hector, Renville County Hospice, and to the Gideons.
Visitation/Gathering
Hughes-Hantge Chapel
311 Main Street South
Hector, MN
Website:hughes@hantge.com
Service
St. Paul's Lutheran Church
500 Cedar Avenue East
Hector, MN
Funeral Chapel
Hughes-Hantge Funeral Chapel
311 Main Street S.
Hector, MN 55342
Phone:(320) 848-6297
Cemetery
St. Paul's Lutheran Cemetery (Hector)
Hector, MN
Obituary
Donald Anderson was born July 29, 1920, in Palmyra Township, Renville County, Minnesota, the son of J. Ben and Selma (Danielson) Anderson. He was baptized as an infant at Swedlanda Lutheran Church in Palmyra Township, and confirmed in his faith there on July 31, 1935.  J. Donald lived and farmed in Palmyra Township until 1943.
   On October 29, 1943, J. Donald was united in marriage to Arlein Raitz at St. Paul's Lutheran Church in Hector. They made their home in Melville Township, and were blessed with three children, David, Cheryl, and Annette. J. Donald farmed and raised livestock in Melville Township. Upon his retirement in 1980, he and Arlein moved to Hector. For more than 40 years they enjoyed their summer cabin on Diamond Lake, and were able to spend 23 winters in Harlingen, Texas. In 2003, they made their home at  Prairie View Apartments in Hector and September of 2014 moved to the Buffalo Lake Healthcare Center.
Donald was an active member of St. Paul's Lutheran Church since 1943. Over the years, he served on the Church Board, President of the congregation and sang in the Men's Choir. Through the years he had also been actively involved on the Creamery Board and the Union Oil Board. In addition, he enjoyed working with the Hector FFA and received an Honorary Chapter Farmer Award.
Donald farmed all his life, and loved his livestock. During retirement he enjoyed gardening, fishing, and spending time at their Diamond Lake cabin. J. Donald loved to sing, and was part of the trio with Fred and Don Duehn. For many years they provided entertainment at nursing homes, churches, ice cream socials, and senior citizen centers. He liked telling stories and engaging in good conversation. A kind gentleman with a strong Christian faith, he was a friend to all and expressed his gratitude freely to those around him. He sincerely loved his wife and children and especially loved spending time with his grandchildren and great-grandchildren.
   On Sunday morning, February 8, 2015, J. Donald passed away at the Renville County Hospital, having reached the age of 94 years, 6 months, 10 days.  Blessed be his memory.
Donald is survived by his wife, Arlein Anderson of Hector; son David [Carol] Anderson of Loveland, CO; daughters Cheryl [Brad] Edgar of Hector, and Annette [Bob] Meeks of St. Peter; grandchildren: Jacquie Anderson [Todd Lee], Kristin Anderson [Michael Bluhm], Bethany Christenson, Stephen [Renee] Edgar, and Christine Meeks; great-grandchildren: Alanna Lee, Anders Bluhm, Cacee Bluhm, Adriana Biskey, Cassidy Christenson, Kylie Christenson, Kennedy Christenson, Loghan Edgar and Tyler Edgar; brother Lawrence [Alice] Anderson; sisters Alyce Canny and Mildred [Duane] Flink; brother-in-law George Raitz, Jr.; and many nieces, nephews, and wonderful friends.
Donald was preceded in death by his parents; his brothers-in-law and sisters-in-law: John Canny, Norman [Irene] Raitz, Anna [Reinhold] Foesch, Melvin [Ila] Raitz, Gordon [Virginia] Raitz, Adeline [Nick] Jacobson, Carol Raitz, and Lorraine Raitz; grandson Derek Edgar; and great-grandson Matthew Edgar.