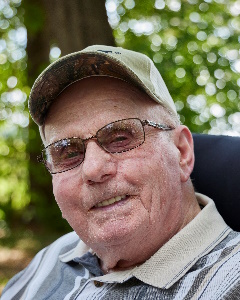 Service Information
John "Johnny" H. Gilster, age 88, of Glencoe, Minnesota, died peacefully with his wife, Arlene by his side on Friday, February 17th, 2023, at GlenFields Living with Care in Glencoe.
Memorial Service will be held Saturday, February 25, 2023, 11:00 A.M. at Emanuel Lutheran Church in Hamburg, Minnesota, with interment following at the church cemetery.
Gathering of Family and Friends will be held Friday, February 24, 2023, from 4:00-7:00 P.M. and Saturday from 10:00 A.M. to 11:00 A.M., one hour prior to the service, all at Emanuel Lutheran Church in Hamburg.
In lieu of flowers memorials are preferred.
Military Honors by the Glencoe Military Honor Guard.
Visitation/Gathering
Emanuel Lutheran Church
18175 Cty Rd 50
Hamburg, MN
Service
Emanuel Lutheran Church
18175 Cty Rd 50
Hamburg, MN
Funeral Chapel
Johnson-McBride Funeral Chapel
1222 Hennepin Avenue
Glencoe, MN 55336
Phone:(320) 864-3737
Cemetery
Emanuel Lutheran Cemetery (Hamburg)
Hamburg, MN (Next to Church)
Hamburg, MN
Obituary
John Henry Gilster was born on November 23, 1934, in Hamburg, Minnesota. He was the son of John and Dora (Beneke) Gilster. He was baptized on December 2, 1934, and later confirmed in his faith on April 10, 1949, both at Emanuel Lutheran Church in Hamburg. He received his education through the eighth grade in Hamburg.
John entered active military service in the United States Army on March 16, 1955 where he served most of his time in Germany testing tanks. He received an honorable discharge on February 28, 1958, as a sergeant.
On September 9, 1961, John was united in marriage to Arlene Heimkes at St. Paul's Evangelical and Reformed Church in Hamburg. This marriage was blessed with one daughter, Michelle. John and Arlene made their home on the farm in Hamburg for over 30 years before moving to Glencoe, Minnesota. They shared 61 years of marriage.
After John returned from the army, he farmed with his dad until 1963 when he and Arlene moved to Arlene's home farm and began their own dairy operation. John farmed until 1986 and then immediately started working for WM Mueller & Sons in Hamburg as their parts runner and "gofer".  John had a knack for negotiating, could fix anything and run any piece of equipment; John thoroughly enjoyed this work until his retirement in 2004.
John was a lifelong member of Emanuel Lutheran Church in Hamburg where he served on the Board of Education, Board of Trustees and as the Mayer Lutheran treasurer. John was a member of the Hamburg Lion's Club since 1986 serving in many positions including President from 1999-2000.  He was an outstanding representative of the Lions and was presented the Melvin Jones Fellowship in 2004, the highest form of recognition. John was also a member of the Glencoe VFW Post #5102, Glencoe American Legion Post #95 and the Glencoe Senior Citizens Club.
Johnny enjoyed the outdoors, traveling, fishing, camping, bowling and playing cards, with a special passion for Sheepshead. He and Arlene were able to travel more after farming, visiting Germany, Australia and New Zealand and warming up a bit during the winter months in FL and AZ. He especially enjoyed the time spent at their seasonal camper at Cozy Corners for over 20 years. These travels resulted in developing many more friendships.  No matter what activity Johnny was doing, his motto was work hard and play harder – he loved to have fun no matter what he was doing, always telling stories and being the life of the party. John's pride and joy was his daughter Michelle, time with her was always his favorite.
Preceding John in death were his parents; his father and mother-in-law, Erwin & Hilda Heimkes; and sister and brother-in-law, Mavis and Herb Gjerde.
John is survived by his loving family: wife, Arlene; daughter, Michelle (Tracy Johnson) Gilster of Ely, MN; siblings, Vonnie (Paul) Nagel of Bloomington, Gary (Joyce) Gilster of Prior Lake and Carol (Don) Ward of Parker, CO; nephews and nieces, other relatives and many friends. Lastly, John's special Granddog, Zoe, who spent many hours by his side and always brought a sparkle to his eye.
The family would like to express a special thank you to the staff at GlenFields Living with Care for the wonderful and compassionate care John received over the last six years. They were John's extended family and he became theirs. They were all recipients of John's many stories and jokes.