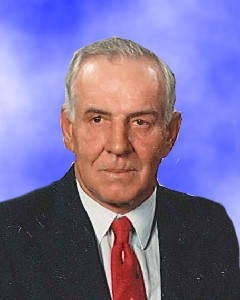 Service Information
John Huffman age 85, of Gaylord, passed away Friday, August 7th, 2015, at the Glencoe Regional Health Service-Long Term Care in Glencoe.
Mass of Christian Burial will be Thursday, August 13th, at 10:30 A.M. at St. Mary's Catholic Church in Arlington with interment in the Gaylord City Cemetery.
Visitation will be Wednesday, August 12th, from 5:00 P.M.-8:00 P.M. at the Egesdal Funeral Home in Gaylord. A Prayer Service will be at 8:00 P.M. on Wednesday. Visitation will continue one hour prior to the service at the church on Thursday.
Visitation/Gathering
Egesdal Funeral Home
74 Main Avenue
Gaylord, MN
Website:hantge.com
Service
St. Mary's Catholic Church
504 NW 7th Avenue
Arlington, MN
Funeral Chapel
Egesdal Funeral Home
74 Main Avenue
Gaylord, MN 55334
Phone:(507) 237-2388
Cemetery
Gaylord Municipal (Gaylord)
Half mile south of Gaylord
Gaylord, MN
Obituary
John Thomas Huffman was born on May 9, 1930, in Sibley Township, Minnesota. He was the son of Thomas and Ruby (Mueller) Huffman. John was baptized as an infant at Immanuel Lutheran Church in Gaylord and was later confirmed in his faith as a youth at the United Church of Christ in Gaylord. He was a graduate of the Gaylord High School Class of 1948, where he was a Minnesota All Star Basketball player.
On March 26, 1951, John was united in marriage to Geraldine T. O'Neill in South St. Paul, Minnesota. John was a well driller and farmer until he retired in 2007.  John and Geraldine shared 64 years of marriage and were blessed with eight children.
John was a member of St. Michael's Catholic Church in Gaylord.
John enjoyed watching sports, hunting and fishing. He loved spending time with his family, from his wife, to his siblings, to his children, grandchildren and great-grandchildren.
John became a resident of the Glencoe Regional Health Services-Long Term Care on August 19, 2014, and passed away there on Friday, August 7, 2015, at the age of 85 years. Blessed be his memory.
John is survived by his:
Wife,               Geraldine Huffman of Glencoe, MN;
Children,          Jack Huffman and his wife, Beth of Williams Bay, WI,
                        Jay Huffman and his significant other, Irene Dauffenbach of Jordan, MN,
                        Joan Huffman of Fairfax, MN,
                        Joe Huffman and his wife, Marlene of Hutchinson, MN,
                        Jeff Huffman of Mesa, AZ,
                        Julie Tobias and her husband, Toby of Farmington, MN,
                        Jennifer Dietz and her husband, Mark of Ham Lake, MN, and
                        Jill Carson and her husband, Kelly of Minneapolis, MN;
18 Grandchildren;
15 Great-Grandchildren;
Siblings, Gloria Sinell of Gaylord, MN, Elizabeth Kuphal of Gaylord, MN, James Huffman of Gaylord, MN, Thomas Huffman and his wife, Gloria of Lake Minnetonka, MN, and Austin Huffman and his wife, Kay of Walker, MN;
Many nieces, nephews, other relatives and friends.
John was preceded in death by his parents, Thomas and Ruby Huffman; sister-in-law, Evelyn Huffman; brothers-in-law, Robert Williamson, Ivan Sinell and Irwin Kuphal.