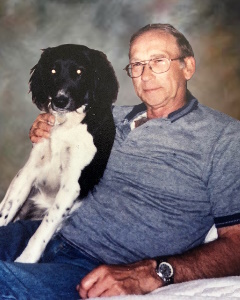 Service Information
Joseph "Joe" A. Svoboda, age 85, of Hutchinson, Minnesota, passed away on Tuesday, March 21, 2023, at his daughter's home in Winsted, Minnesota.
Gathering of Family and Friends will be held on Tuesday, March 28, 2023, from 4:00 to 7:00 P.M. at the Dobratz-Hantge Funeral Chapel in Hutchinson.
Funeral Chapel
Dobratz-Hantge Funeral Chapel
899 Highway 15 South
Hutchinson, MN 55350
Phone:(320) 587-2128
Obituary
Joseph "Joe" August Svoboda was born on March 26, 1937, in Severance Township, Sibley County, Minnesota. He was the son of Emil and Bernice (Stark) Svoboda. Joe was baptized as an infant on April 18, 1937, and later confirmed in his faith as a youth. He was a graduate of the Seward, Alaska, High School Class of 1955.
On December 7, 1974, Joe was united in marriage to Dawn F. Linder at Bethlehem United Methodist Church in Hutchinson, Minnesota. This marriage was blessed with three children, Kimberly, Dennis, and David. Joe and Dawn resided in Hutchinson. They shared 47 years of marriage before the passing of Dawn on December 20, 2021.
Joe owned and operated Joe's Sport Shop in Hutchinson since 1978. He provided trophies and sports clothing to numerous local youth and adult sporting clubs and events. Joe also coached his sons' hockey team when they were younger. He was a member of Elks Post #2427 in Hutchinson.
Joe enjoyed golfing, bowling, and fishing. Joe loved spending time at his home away from home, Cozy Bay Resort. He especially enjoyed spending time with his family, grandchildren and friends.
Joe passed away on Tuesday, March 21, 2023, at his daughter's home in Winsted, Minnesota, at the age of 85 years.
Blessed be his memory.
Joe is survived by his:
Children, Kimberly Good and her fiancée, Tim Kosek,
David Svoboda;
Grandchildren, Eric Svoboda, Denise Svoboda, Tina Carr and her husband, Cory, Jill Miller, Jesse Good, and Jordan Good;
Nine Great-grandchildren;
Sisters, Lavone Squier,
Darlene Sauer;
Brothers and Sisters-in-law, Mike Linder and his wife, Jane,
Dennis Mattson and his wife, Carol,
Danny Mattson and his wife, Lisa;
Many other relatives and friends.
Joe is preceded in death by his Parents, Emil and Bernice Svoboda; Wife, Dawn Svoboda; Son, Dennis Svoboda; Brother, Roger Svoboda and his wife, Isable; Sister, Rene Farley and her husband Joe; Son-in-law, Dale Good; Parents-in-law, Carlton and Faye Linder; Brothers-in-law, Tex Linder, Tim Linder, Gary Squier, Peter Sauer.