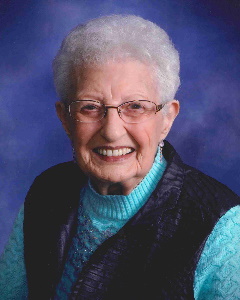 Service Information
Joyce M. Schmidt, age 96, of Hutchinson, formerly of Glencoe, Minnesota, passed away Monday, November 21, 2022, at Harmony River Living Center in Hutchinson, Minnesota.
Mass of Christian Burial will be held Tuesday, November 29, 2022, 11:00 A.M., at the Church of St. Pius X in Glencoe, with interment following at the Glencoe Catholic Cemetery.  
Visitation will be held Monday, November 28, 2022, from 4:00 - 7:00 P.M. at the Johnson-McBride Funeral Chapel in Glencoe. A Prayer Service will be held at 6:30 P.M. on Monday. The visitation will continue from 9:00 - 11:00 A.M., two hours prior to the service at the church on Tuesday.
In lieu of flowers, memorials preferred to the Church of St. Pius X (1014 Knight Ave. N. Glencoe, MN 55336) or the Zella Thode Scholarship (Hutchinson Area Dollars For Scholars, 1200 Roberts Rd. Hutchinson, MN 55350).
Visitation/Gathering
Johnson-McBride Funeral Chapel
1222 Hennepin Avenue
Glencoe, MN
Website:hantge.com
Service
Church of St. Pius X
1014 Knight Avenue
Glencoe, MN
Funeral Chapel
Johnson-McBride Funeral Chapel
1222 Hennepin Avenue
Glencoe, MN 55336
Phone:(320) 864-3737
Cemetery
Glencoe Catholic Cemetery - St. Pius X
Glencoe, MN
Obituary
Joyce Marie (Goetz) Schmidt was born September 27, 1926, to Thomas and Walburga (Schmitt) Goetz in Watertown, Minnesota. She was baptized into the Catholic faith and began her life on the Matt and Helena Goetz Farm. One year later, in 1927, the family moved to the Kaizar Farm in Watertown. In 1928, the family moved to the Deasner Farm in Waconia, Minnesota. They lived on the edge of Lake Waconia and Joyce helped her dad rent boats to customers – Joyce was the one to collect the quarters from the renters. In 1931, the Goetz family moved to Stewart, Minnesota. The family farmed "Big Time." In August of 1944, the Goetz family moved to Hutchinson.
Joyce started school in 1932 in the little round white schoolhouse on Highway 212. She received her 2nd - 8th Grade education at the St. Boniface Catholic School in Stewart where she received her first communion and was confirmed in her faith. She graduated from Stewart High School with the class of 1944.
On November 6, 1945, Joyce was united in marriage to John J. Schmidt at St. Anastasia Catholic Church in Hutchinson by Father Henry J. Byrne. Their marriage was blessed with 6 children, John, Bruce, Bill, Sharon, Shirley, and Sandy. Joyce and John farmed north of Stewart until 1968 when they moved to Glencoe where John continued employment with Green Giant and Joyce continued employment with J.C. Penney's Store in Hutchinson as the catalog supervisor. As a couple, Joyce and John loved to be with family and friends. They enjoyed dancing together and, after retirement, loved to travel the country and experience adventures with friends. The couple shared 62 years together until John passed away on March 1, 2008.
Joyce was a loving wife, mother, and homemaker. She was a hard worker and was a vital partner in managing the farm and household. Joyce had a strong faith in the Lord and was an active member of the Church of St. Pius X in Glencoe where she was involved in the CCW society. She volunteered at the Glencoe Hospital gift shop and held a seat on this board. Joyce enjoyed attending her children's and grandchildren's sporting events, going to the county and state fairs, church events, and other community events. Joyce loved decorating their home for the holidays and tending to her flower gardens. Joyce belonged to the "Rip and Tear" sewing group, home extension group #9, and enjoyed catching up with friends, by attending Green Giant Ambassador events, and class reunions. She greatly cherished the time she spent with her family and friends.
In 2005, Joyce and John moved into Orchard Estates in Glencoe, where Joyce participated in the daily activities of playing sheepshead, 500, polish rattle, and doing exercises. Joyce moved into Ecumen Oaks in Hutchinson on February 22, 2019. Joyce entered Harmony River Living Center in Hutchinson on November 8, 2022, and passed away there on Monday, November 21, 2022.
Blessed be her memory.
Joyce is survived by her
Children, John Schmidt, and his wife, Pat, of DePere, WI, Bruce Schmidt and his wife, Shirley, of International Falls, MN, Bill Schmidt and his wife, Fern, of Merrifield, MN, Sharon Daniels and her husband, Gary, of Hutchinson, MN, Shirley Klitzke of Darwin, MN, Sandy Schmidt of Minnetrista, MN;
Grandchildren, Michelle (Rick) Kerkhoff, Sheryl (Jason) Andreo, Tamra (Mike) Trenary, Lori (Kevin) Braiedy, Ryan (Janelle) Schmidt, Amy Schmidt, Becki (Matt) Saunders, Kyle (Sara) Schmidt, Christine (John) Riehle, Sara (Matt) Thode, Brad (Nicole) Klitzke, Mandy (Scot) Quist, Jake Schmidt, Jenna (Zack) Sisemore;
Great-grandchildren, Jaden, Joel, Clara, Eric, Alissa, Zachary, Benjamin, Gage, Addison, Autumn, Luke, Trevor, Kykeshia, Harmony, Briar, Caden, Jones, Hawkins, Myah, Hailey, Barrett, Owen, Ella;
Great-Great-Grandchildren, Kyrie and Zarius;
Nieces, nephews, other relatives, and friends.
Joyce was preceded in death by her husband, John J. Schmidt; parents, Thomas and Walburga Goetz; parents-in-law, John and Magdalena Schmidt; Granddaughter, Melissa Daniels; Great-granddaughter, Zella Thode; Sons-in-law, Burt Klitzke, Mark Schmidt; Sisters, Elizabeth "Betty" Carter and her husband, Gerald, and Beverly Ring; Brothers-in-law, Joe Schmidt and his wife, Ann, and Jim Schmidt and his wife, Florence.