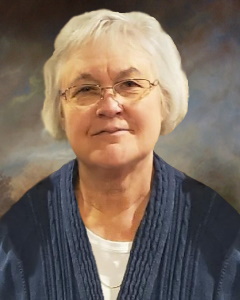 Service Information
Judy Ann Schuch, age 75, of Glencoe, Minnesota, passed away Thursday, November 17, 2022, at her home surrounded by family in Glencoe, Minnesota.
Memorial Service will be held Monday, November 28, 2022, 11:00 A.M. at First Evangelical Lutheran Church in Glencoe, Minnesota.
Gathering of Family & Friends will be held Sunday, November 27, 2022, from 4:00 – 7:00 P.M., at the Johnson-McBride Funeral Chapel in Glencoe, and will continue one hour prior to the service at the church on Monday.


Visitation/Gathering
Johnson-McBride Funeral Chapel
1222 Hennepin Avenue
Glencoe, MN
Website:hantge.com
Service
First Evangelical Lutheran Church
925 13th Street E
Glencoe, MN
Funeral Chapel
Johnson-McBride Funeral Chapel
1222 Hennepin Avenue
Glencoe, MN 55336
Phone:(320) 864-3737
Obituary
Judy Ann (Bauer) Schuch of Glencoe was born October 12, 1947, to Harold and Anna (Polzin) Bauer, rural Brownton. She was baptized and confirmed at St. John's Lutheran Church (Mountville) in rural Gaylord. She attended Helen Baker Elementary School and Glencoe High School, graduating with the class of 1965. She continued her education at Hutchinson Technical College and graduated in 1994 with a degree in Administrative Support Careers.
She was united in marriage to Veryl Ebert Schuch on August 23, 1970, at St. John's Lutheran Church (Mountville) in rural Gaylord. In January 1972, they moved to their dairy and grain farm southwest of Glencoe. They lived there until 2011 when they moved to their home in Glencoe. Their marriage was blessed with three children. They shared 52 years of marriage.
In addition to being a mother, housewife, and farming partner, Judy was employed at the Municipal Electric Plant, Young America Corporation, and the McLeod County Sheriff's Office. For over 40 years, one of her labors of love was serving as an organist at St. John's Lutheran Church in rural Gaylord, often playing for funerals, weddings, and other special services. After retirement she was employed part-time at Seneca and Nutrition Services at Glencoe Regional Health, fully retiring on November 1, 2021. They became members of First Evangelical Lutheran Church, Glencoe in 2021.
She enjoyed reading, music, baking, cooking, gardening, attending county and state fairs, threshing bees, and spending time with family and friends. Judy and Veryl enjoyed traveling, including several tours with Wendinger Travel.
She was a member of the Glencoe VFW Post 5102 Auxiliary, holding a number of positions over the years. She also enjoyed volunteering at the Sibley County Fair and with Sibley County 4-H, serving as a Key Leader for the Weeping Willows 4-H Club.
Judy received her crown of life on Thursday, November 17, 2022, surrounded by her family at her home. Blessed be her memory.
Judy is survived by her
Husband,  Veryl of Glencoe;
Son, Brian and his wife, Shannon of Glencoe;
Daughters, Connie Sylwester and her husband, Chad of St. Bonifacius, Julie Sievert and her husband, Deric of Gibbon;
Grandchildren, Ebony, Madison, and Autumn Schuch of Glencoe, Cody and Nicole Sievert of Gibbon;
Brother, Ronald Bauer and his wife, Muriel of Brownton;
Sister, Kathleen Bauer of Courtland;
Sisters-in-law and brothers-in-law, Karen and Robert Heil of Brownton, David and Gail Schuch of Brownton, Carla and Lester Dose of Salina, KS;
Several nieces, nephews, other relatives, and friends.
Judy was preceded in death by her parents, Harold and Anna Bauer, grandchild, baby Schuch, and grandson, JD Sievert.