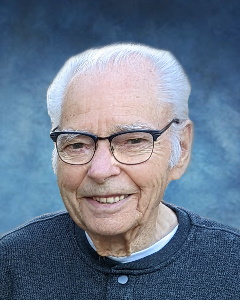 Service Information
Julian M. Denler, age 92, husband of Marilyn, of Hutchinson, Minnesota, passed away on Tuesday, December 27, 2022, at his home in Hutchinson.
Memorial Service will be held on Sunday, February 12, 2023, at 11:00 A.M. at  the Seventh-day Adventist Church in Hutchinson.
Gathering of Family and Friends will be held one hour prior to the service at the church.
Memorials preferred to Adventist Development and Relief Agency (ADRA), 12501 Old Columbia Pike, Silver Spring, MD 20905
Funeral Chapel
Dobratz-Hantge Funeral Chapel
899 Highway 15 South
Hutchinson, MN 55350
Phone:(320) 587-2128
Obituary
Julian Marlow Denler was born on October 4, 1930, in Faribault, Minnesota. He was the son of Arnold Sr. and Lucille (Moses) Denler. Julian received his education in Faribault and Hutchinson, and was a graduate of the Maplewood Academy's Class of 1950. He attended Emmanuel Missionary College, now known as Andrews University, in Berrien Springs, Michigan.
Julian entered active military service in the United States Army on May 8, 1952, and served his country during the Korean War. His basic training was at Camp Pickett and medical training was at Iwo Jima's former Japanese Officers Training Facility. Julian was then stationed at the hospital in Pusan, Korea and later the demilitarized zone. He received an Honorable Discharge on March 19, 1954, at Camp Carson in Colorado, and achieved the rank of Corporal .
On February 9, 1975, Julian was united in marriage to Marilyn Christensen at the Seventh-day Adventist Church in Hutchinson. He became the step-father to Stacy and their marriage was blessed with another daughter, Valanie, and a son, Koray. Julian had four children from a former marriage, Julie, Shelly, Marlon, and Galen. Julian and Marilyn made their home in Hutchinson. They shared 47 years of marriage.
Julian was employed at Stearnswood Inc. in Hutchinson, after owning and operating his own auto mechanic shop, Denler Truck and Auto Service for many years. He retired from Stearnswood, Inc. when he turned 90 years of age.
Julian was a long-time member of the Seventh-day Adventist Church in Hutchinson and served as a Deacon and Elder during those years. Julian enjoyed gardening, woodworking, photography, playing the musical saw, and attending Tuesday Men's Bible Study at church. He especially enjoyed spending time with his family, grandchildren and friends.
Julian passed away at his home on Tuesday, December 27, 2022, at the age of 92 years, 2 months, and 23 days.
Blessed be his memory.
Julian is survived by his:
Wife, Marilyn Denler of Hutchinson, MN;
Children, Julie (Tom) Horan,
Shelly (Alan) Lawyer,
Marlon Denler,
Galen Denler,
Stacy (Buck) Twardy,
Valanie (Lutz) Voelkel,
Koray (Lori) Denler;
Grandchildren, Lyndie (Steven) Boyd, Sara (Jason) Gibson, Shannon (Walter) Logan, Ali Lawyer, Jordan Twardy, Nathan Twardy, Brayden Denler, Brooke Denler;
6 Great-grandchildren;
Siblings, Arnold (Ardeth) Denler Jr., Loren (Sherri) Denler, Leland (Rosemary) Denler, Veryl (Peggy) Denler;
Sister-in-law, Angela Christensen;
Brother-in-law, Dan Brooks;
Many other relatives and friends.
Julian is preceded in death by his Parents, Arnold Sr. and Lucille Denler; Father-in-law, H. Lenard Christensen; Mother-in-law, Mary L. Christensen; Daughter-in-law, Sandy Denler; Granddaughter, Mistie Horan; Siblings, Virginia Denler, Celia Wery, Fay Wintermeyer, Juney Mize, Bonnie Brucher; Darlene Brooks, Angie Froemming; Brothers-in-law, Lyle Christensen, Bob Wery, Emmer Wintermeyer, Ken Mize, Walt Brucher, Roger Froemming.