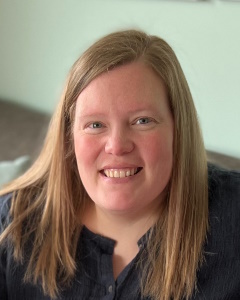 Service Information
Kaitlin McGraw May, age 36, of Hutchinson, Minnesota, passed away on Friday, May 5, 2023, at her home in Hutchinson.
Memorial Service will be held Saturday, May 13, 2023, at 11:00 A.M., at Christ the King Lutheran Church in Hutchinson. Private Family Burial will be at Oakland Cemetery in Hutchinson.
Gathering of Family and Friends will be held on Friday, May 12, 2023, from 5:00-8:00 P.M. at Christ the King Lutheran Church in Hutchinson, with a Prayer Service at 7:30 P.M. Gathering will continue on Saturday one hour prior to the service at the church.
Friday Prayer Service and Saturday Memorial Service will be livestreamed at https://ctkhutch.com/live
Memorials preferred. Memorial accounts have been set up at Citizen's Bank & Trust and Go Fund Me.
Visitation/Gathering
Christ The King Lutheran Church
1040 South Grade Road
Hutchinson, MN
Service
Christ The King Lutheran Church
1040 South Grade Road
Hutchinson, MN
Funeral Chapel
Dobratz-Hantge Funeral Chapel
899 Highway 15 South
Hutchinson, MN 55350
Phone:(320) 587-2128
Obituary
Kaitlin McGraw May was born on October 28, 1986, in Minneapolis, Minnesota, and she passed away in Hutchinson on May 5, 2023. She was the daughter of Michael and Karla (Hawker) McGraw. Kaitlin graduated from Hutchinson High School in 2005, and was a member of the Varsity Golf and Tennis teams. One of her state tournament golf appearances was punctuated by finishing a round in bare feet after being stung by deer flies! Kaitlin graduated from the University of Notre Dame in 2009 with a BA in History and a minor in Irish Studies.
Kaitlin was a faithful, loyal, and grateful daughter, sister, granddaughter, niece, and friend as well as a tireless, loving and understanding wife and mom who had a plan for everything and was generally 10 steps ahead of everyone else! Michael and Kaitlin, who were married for ten years this May, were the best of friends who welcomed family and friends alike but loved just being together over just about anything else. Her children, Little JoJo and Cal, were the light of her eye! Kaitlin guided them with persistence, creativity, patience, thoughtfulness and vision.
Kaitlin was the glue in her family, especially during times of uncertainty and challenge. She had a quiet, steady, but also commanding presence that could turn life's complexities into something manageable, making life easier for those in her life.
Kaitlin was an expert teacher who was incredibly gifted, but also one who worked ceaselessly to master her craft. She was an avid reader whose curiosity and love of learning informed how she thought about and engaged her teaching and life in general. She believed in the dignity of each student and was dedicated to helping children with learning challenges. She accumulated numerous teaching certifications so that she could better serve her students and was licensed to serve grades K-12, but she focused on the early years. Her specialties included Learning Disabilities (LD), Emotional and Behavioral Disability (EBD), Developmental Cognitive Disorder (DCD), Autism Spectrum Disability (ASD), and Other Health Disabilities (OHD). Despite suffering several concussions and regular bruises and bite marks, Kaitlin maintained her sense of humor and ability to see the good in each of her students. Her curriculum design and ongoing mentorship of new teachers spread her expertise and insights throughout the school system.
Kaitlin's love of family and those she served guided everything she did. She experienced life deeply and absorbed the feelings and emotions of those around her. On occasion she could share her more feisty side as she shared how she really felt, but she was always very thoughtful and sensitive to what others needed.
Kaitlin had three tattoos that reflected inner dispositions and the people and parts of her life that helped form her. First, her love of the Irish language, history and culture was reflected in her tattoo of "Síochána", which is Irish for peace. Second, she had "Vita Dulcedo Spes" (which is the motto of her alma mater, Notre Dame, and highlights how Mary is our life, our sweetness, and our hope). Finally, she received a tattoo of a goldfinch, which represented her love of her Grandpa RJ, from whom she inherited a passion for the McLeod County Fair and assumed his place at the North Gate. These words and images reflect Kaitlin's earnest, authentic and genuine nature, her love of and devotion to family, and her ability to stay true to who she was and the values in which she believed and dedicated her life and service.
Kaitlin is survived by her:
Husband, Michael May of Hutchinson, MN;
Children, Joseph McGraw and Callier Grace;
Parents, Michael and Karla McGraw of Hutchinson, MN;
Parents-in-law, Pat and Joy May of Hutchinson, MN;
Siblings, Nora and Evan Kohli of Hutchinson, MN,
Riley McGraw of Hutchinson, MN;
Siblings-in-law, Jon and Brittni May of Waconia, MN,
Katie May of Waconia, MN;
Grandparents, Marvin and Marilyn Hawker of Hutchinson, MN, and
Kathleen McGraw of Hutchinson, MN;
Aunts and Uncles, Vicki and Jim Powell of Houston, TX,
Steve and Holli Hawker of Chanhassen, MN,
Patty and Omar Kouatli of Edina, MN,
Patrick McGraw of Hutchinson, MN,
Sean McGraw and Kris Trustey of Wenham, MA,
Shannon and Mark Klaers of St. Louis Park, MN;
Cousins, Chistopher Powell, Nicole Powell, Michal Hawker, David Hawker, Jesse Hawker, Hannah Hawker Touchette, Erin Hawker, Maddie Hawker, Claire Kouatli, Kathryn Kouatli, Conor Klaers, Ryan Klaers, Maggie Klaers, Caroline Trustey, and Claire Trustey;
Nieces and Nephews, Maren Kohli, Henry May, Franklin May, and Annie May.
Kaitlin is preceded in death by her grandpa RJ McGraw.
In lieu of flowers, the family welcomes memorials to help support the education of Kaitlin and Michael's children Joey and Cal.