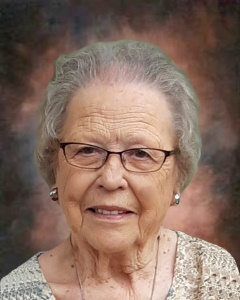 Service Information
Kathleen L. Schafer, wife of Lester Schafer, age 91, of Buffalo Lake, Minnesota, passed away on Friday, August 5, 2022, at the Olivia Restorative Therapy and Nursing Home in Oliva, Minnesota.
Memorial Service will be held Saturday, August 13, 2022, at 11:00 A.M. at Zion United Methodist Church in Buffalo Lake with interment in Zion Evangelical Cemetery in Buffalo Lake.
Gathering of Family and Friends will be held Friday, August 12, 2022 from 4:00-7:00 P.M and will continue one hour prior to the service ALL at the church.
Visitation/Gathering
Zion United Methodist Church
306 NW 2nd Street
Buffalo Lake, MN
Service
Zion United Methodist Church
306 NW 2nd Street
Buffalo Lake, MN
Funeral Chapel
Hughes-Hantge Funeral Chapel
311 Main Street S.
Hector, MN 55342
Phone:(320) 848-6297
Cemetery
Zion Evangelical Cemetery (Preston Lake Twp)
Renville County, Preston Lake Township
Buffalo Lake, MN
Renville
Obituary
Kathleen Louise (Carlson) Schafer was born December 27, 1930 to Carl Anton and Opal (Whitman) Carlson. She passed away on Friday, August 5, 2022 at the age of 91 years. Kathleen grew up on a farm south of Hector, Minnesota. She was baptized and confirmed at First Lutheran Church in Hector. Upon graduation from Hector High School in 1949, she then furthered her education at the Minnesota School of Business. She was hired by General Mills, where she was involved in the production of the very first Betty Crocker cookbook, and was later promoted to personal secretary for the corporate treasurer. In 1954 she gave up the city life when she married Lester Schafer and moved to Buffalo Lake to farm with him.
Kathleen had high expectations for her four children and herself - from academics to civic involvement, from kindness to proper grammar, and perhaps most importantly, to always following through on commitments. She was an avid gardener and food preservationist, putting up hundreds of quarts of fruits and vegetables each year. She also loved flowers, particularly carrying on her father's legacy by raising hundreds of gladiolas each year. She was highly involved in the farm, serving as chief bookkeeper, errand runner, bean walker, cow chaser when needed, meal preparer (though she always said she hated cooking), and even occasional combine operator. Her civic life was active as well, serving as Sunday School teacher, Grafton Merrymakers 4-H leader, Sibley County Extension Committee member, co-secretary of the Minnesota Hereford Association with Lester, active member of United Methodist Women, volunteer at the Buffalo Lake Care Center, Meals on Wheels driver, bloodmobile volunteer, and church secretary at Zion United Methodist Church for 30 years. As a cancer survivor she participated in Relay for Life many times, and she generously shared her extra garden produce and flowers with friends and neighbors.
She enjoyed reading, crossword puzzles, quilting, and knitting, especially in winter when she had more time. She treasured the monthly gatherings of the "Schafer Cousins Club," and also greatly enjoyed the trips she and Lester were able to take later in life, including to Alaska, the west coast, and Banff. Kathleen was an archivist by nature and not only collected genealogical details, but also wrote up many of her own childhood and family memories and well documented her life with a daily diary notation of the day's events, weather notes and family news.
She is survived by her:
Husband, Lester;
Son, John;
Daughters, Carla (Ron) Greenwood,
Laurie (Joe) Schroeder,
and Mary (Gary) Chicos;
Grandchildren, Philip (Kacie) Greenwood, Sarah Greenwood, Steve (Emily) Schroeder, Molly (Jeramy) Geditz, Brandon Schroeder, Toni Chicos, and Sydney Chicos;
Five great grandchildren, Wyette Greenwood, Zoey Darling, Miles Schroeder, Frances Schroeder, and Kendell Olson;
Brother-in-law, Robert Schafer;
Many nieces and nephews.
She was preceded in death by her sister, Marilyn Martineau, brother-in-law Edward Martineau, sister-in-law Carol Schafer, and grandson Michael Greenwood.
Memorial gifts may be given to the American Cancer Society, Zion United Methodist Church or the Minnesota 4-H Foundation.