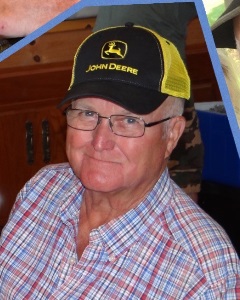 Service Information
Kelly Baggenstoss, age 85, husband of LuAnn, passed away Tuesday, January 31, 2023, at Kingsway Retirement Living in Belle Plaine, Minnesota.
Funeral Service will be Saturday, February 11, 2023, 11:00 A.M. at Immanuel Lutheran Church in Gaylord with interment in the church cemetery.
Visitation will be Friday, February 10, 2023, from 4:00 P.M.-7:00 P.M. at Immanuel Lutheran Church in Gaylord and will continue one hour prior to the service on Saturday.
Visitation/Gathering
Immanuel Lutheran Church
315 5th Street
Gaylord, MN
Service
Immanuel Lutheran Church
315 5th Street
Gaylord, MN
Funeral Chapel
Egesdal Funeral Home
74 Main Avenue
Gaylord, MN 55334
Phone:(507) 237-2388
Cemetery
Immanuel Lutheran Cemetery (Gaylord)
Highway 22 North
Gaylord, MN
Obituary
Kelly Elmer Baggenstoss was born on August 8, 1937, in Swan River Township, Morrison County, Minnesota. He was the son of August and Esther (Ehrlichmann) Baggenstoss. Kelly was baptized on August 29, 1937, and was later confirmed in his faith on June 17, 1951, by Reverend Nauss, at Mount Olive Lutheran Church in Upsala, Minnesota. He graduated from Upsala High School in 1955.  In 1960 he joined the US National Guard and served for 6 years.
On February 9, 1963, Kelly was united in marriage to LuAnn Harren in Upsala, Minnesota. This union was blessed with 11 children.
In the early years of their marriage, Kelly worked for Honeywell and they purchased their first home in Coon Rapids, Minnesota.  A couple of years later he worked for Fire Engineers which brought them to Boaz, Alabama, and eventually back to Golden Valley, Minnesota.  In 1970 when Fire Engineers opened a plant in Arlington, Minnesota, he helped build and install incinerators across the U.S.  In 1970 they also purchased their farm in rural Gaylord, Minnesota.
After Fire Engineers closed, Kelly worked for another company before getting hired at Oak Grove Dairy in Norwood, Minnesota. During his employment at Oak Grove Dairy, he worked in many different areas and learned as much about the company prior to holding a supervisor position and finally retiring in September 1999 after 23 years with the company.  Kelly continued to farm after retiring, he and LuAnn shared 52 years together on their farm and celebrated 60 years of marriage.
Kelly was a long-time member of Immanuel Lutheran Church in Gaylord and enjoyed serving as Head Usher for many years.
Kelly truly enjoyed his hobby farm, helping neighbors, playing cards and dancing. He had a great sense of humor with his colorful, sassy, and witty tales. Kelly cherished the time he spent with his family, especially his children, grandchildren, and great-grandchildren.
Kelly passed away on Tuesday, January 31, 2023, at Kingsway Retirement Living in Belle Plaine, Minnesota, at the age of 85 years. Blessed be his memory.
Kelly is survived by his:
Wife,                      LuAnn Baggenstoss of Gaylord, MN;
Children,                 Duane (Carmen) Baggenstoss of Gaylord, MN,
                                Lana (Larry) Lewer of Coon Rapids, MN,
                                Lori (Dean) Maas of Nicollet, MN,
                                Kelly Rae (Mechele "Shelly") Baggenstoss of Lyles, TN,
                                Leah Rodriguez of New Richmond, WI,
                                Lisa (Thomas "Tom") Pfarr of Arlington, MN,
                                Lyna (Special friend, Jason "Skip") Baggenstoss of Nicollet, MN,
                                Florian (Michele) Baggenstoss of Waconia, MN,
                                LuAnn (Jason) Kalis of Cokato, MN,
                                Loni (Derek) Scheff of Belle Plaine, MN, and
                                Mitchell (Kyla) Baggenstoss of Lafayette, MN;
Many Grandchildren and Step Grandchildren;
Many Great-Grandchildren and Step Great-Grandchildren;
Sister, Lois (Edward) Schlichting of Appleton, WI;
Brothers, Leon (Renee) Baggenstoss of Fridley, MN, David (Benita) Baggenstoss of Elmdale, MN, Ivan (Patricia) Baggenstoss of Cedar, MN, and Gary (Shirley) Baggenstoss of Elk River, MN;
Sisters-in-law, Judith Baggenstoss of Oconomowoc, WI, and Joan Baggenstoss of Fridley, MN;
Many nieces, nephews, other relatives and friends.
Kelly was preceded in death by his Parents, August and Esther Baggenstoss;  Brothers, Florian Baggenstoss, Virgil "Butch" Baggenstoss, Milton Baggenstoss, Glen Baggenstoss, Laurel Baggenstoss; and Infant Baby Brother, Robert; Sister, LaVonne Lehrke; Brother-in-law, Glenn Lehrke; Sisters-in-law, Virginia Baggenstoss, DeAnna Baggenstoss, Lillian Baggenstoss, and Anne Baggenstoss; Sons-in-law, Juan Rodriguez and Gregory Kloeckl; Nephews, Kevin Baggenstoss and Jeff Baggenstoss; Nieces, Sandra Baggenstoss, Kerri Baggenstoss and Candy Erickson.