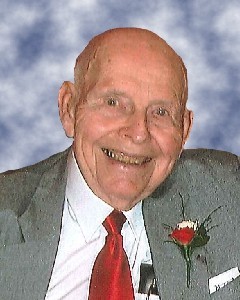 Service Information
Kenneth Nelson age 95, of Fairfax, passed away October 10th, 2015, at the Fairfax Community Home in Fairfax.
Funeral Service will be Monday, October 19th, 11:00 A.M. at Palmyra Covenant Church, Palmyra Township, Renville County, with interment in the church cemetery.
Visitation will be Sunday, October 18th, from 4:00 P.M.-7:00 P.M. at the Hauser-Hantge Funeral Home in Fairfax. Visitation will continue one hour prior to the service at the church on Monday.
Visitation/Gathering
Hauser-Hantge Chapel
601 South Park Street
Fairfax, MN
Website:hantge.com
Service
Palmyra Covenant Church
44031 County Rd 4
Hector, MN
Funeral Chapel
Hauser-Hantge Funeral Chapel
601 South Park Street
Fairfax, MN 55332
Phone:(507) 426-7274
Cemetery
Palmyra Covenant Cemetery, Palmyra Township
44031 County Road 4
Hector, MN
Obituary
Kenneth Otto Nelson was born on December 28, 1919, at home in Camp Township, Renville County, Minnesota. He was the son of Nels and Minna (Semerud) Nelson. Kenneth was baptized as an infant and was later confirmed in his faith as a youth, both at Camp Lutheran Church, Camp Township, Renville County, Minnesota. He received his education at country school. Kenneth farmed his entire life.
On March 1, 1946, Kenneth was united in marriage to Esther Anderson at Palmyra Covenant Church. After their marriage, they rented and farmed a number of farms before moving to the Nelson family farm in 1964. He was the township clerk for 30 years. He sold Palmyra Farmers Insurance and was also on the Board of Directors for 30 years. Kenneth and Esther were blessed with three children and they shared 64 years of marriage before Esther passed away on June 14, 2010.
Kenneth was a member of Palmyra Covenant Church.
Kenneth supported his children in their 4-H projects and loved to attend the county fair. He loved collecting antiques. Kenneth loved spending time with his family, especially his grandchildren and great-grandchildren. All of his family was very important to him.
When he needed assistance with his daily care, Kenneth became a resident of the Fairfax Community Home on January 6, 2012, and passed away there on Saturday, October 10, 2015, at the age of 95 years. Blessed be his memory.
Kenneth is survived by his:
Children,          Julie (Roland) Storly of rural Aberdeen, SD,
                        June (John) Johnson of Antioch, TN, and
                        David (Doris) Nelson of rural Fairfax, MN;
Nine Grandchildren, Jeremy Storly of Mobridge, SD, Tim Storly of Mitchell, SD, Jeff (Lucia) Storly of Aberdeen, SD, Nicole (Nathan) Bunch of Antioch, TN, Matt (Jenny) Johnson of St. Paul, MN, Anna Nelson of Shakopee, MN, Kristen Nelson of Elkhorn, WI, Eric (Sarah) Nelson of Fairfax, MN, and Sonja Nelson of Macomb, IL;
10 Great-Grandchildren, Arianna and Aaron Nelson; Cole, Aiden and Eva Nelson; Landon and Brenna Storly; Peyton Dorris and Clementine Storly; Emma Bunch; Audrey Johnson;
Nieces, Nephews, other relatives and friends.
Kenneth was preceded in death by his Parents, Nels and Minna Nelson; Wife, Esther Nelson; Sisters, Ethel, Florence and Mavis; Brothers, Stanley and Lester.