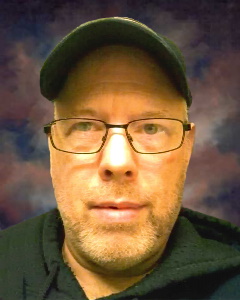 Service Information
Kevin E. Herrmann, age 60, of Hutchinson, Minnesota, passed away on Tuesday, June 21, 2022, at The Estates at Delano in Delano, Minnesota.
Gathering of Family and Friends will be held on Saturday, June 25, 2022, from Noon to 2:00 P.M. at the Elk's Club in Hutchinson.
A Celebration of Life will be held on Saturday, July 23, 2022, 2:00 P.M. at his daughter's, JoAnna's home, 113 2nd Ave. S., Lester Prairie, Minnesota. Please RSVP to JoAnna.
Funeral Chapel
Dobratz-Hantge Funeral Chapel
899 Highway 15 South
Hutchinson, MN 55350
Phone:(320) 587-2128
Obituary
Kevin Edward Herrmann was born on May 15, 1962, in Waconia, Minnesota. He was the son of Edward and Donna (Briesemeister) Herrmann. Kevin was baptized as an infant and was later confirmed in his faith as a youth. He received his education in Glencoe and was a graduate of the Glencoe High School.
Kevin was a member of Christ the King Church in Hutchinson.
Kevin loved to sing karaoke, riding motorcycles, and building model cars and trucks.
When he need assistance with his daily care, Kevin became a resident of the Estates at Delano and passed away there on Tuesday, June 21, 2022, at the age of 60 years. Blessed be his memory.
Kevin is survived by his:
Daughter,        JoAnna Andrews of Lester Prairie, MN;
Siblings, Michael (Mari) Briesemeister of Rosemount, MN, Sally (Jerry) Cook of Avondale, AZ, Cynthia Fink of Hutchinson, MN, Jeff Herrmann of Hutchinson, MN, Carol Herrmann and her fiancée, Drew Olson of Anoka, MN;
Nieces, Nephews, other relatives and friends.
Kevin was preceded in death by his Parents, Edward and Donna Herrmann.