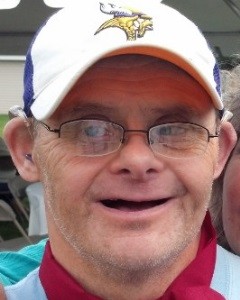 Service Information
Kim Michael Lade, age 60, of Eagle Lake, formerly of Stewart, passed away Friday, March 27, 2015, at his home.
Funeral Service will be held Wednesday, April 8, 2015, at 11:00 A.M. at St. Paul's Lutheran Church in Stewart, with interment in the church cemetery.
Visitation will be held Tuesday from 5:00 – 8:00 P.M. at the Hughes-Hantge Funeral Chapel in Stewart, and will continue for one hour prior to the service at the Church on Wednesday. 
Visitation/Gathering
Hughes-Hantge Chapel
805 Powers Street
Stewart, MN
Website:hantge.com
Service
St. Paul's Lutheran Church
300 Croyden Street
Stewart, MN
Funeral Chapel
Cemetery
St. Paul's Lutheran Cemetery (Stewart)
300 Croyden St - Across Croyden Street from Church
Stewart, MN
Obituary
Kim Michael Lade was born April 29, 1954, in Glencoe, Minnesota.  He was the son of August and Mabel (Ziemann) Lade.  Kim was baptized by Pastor M. A. Schultz at St. Paul's Lutheran Church in Stewart.  Kim received his education at the Hutchinson School with Mrs. Carl Olsen as his teacher, completing his coursework at age 18.  He went on to the Mankato Rehabilitation Center and the Harry Meyering Center where he was employed for over 40 years.  He retired last year. 
Kim loved his work and the time he spent with his fellow coworkers and staff.  He brought a smile to everyone's face daily, no matter who he met.  There was never a dull moment when Kim was around, and you never forgot his smile. 
Kim enjoyed sports, going to or watching them on TV.  One of the things he most wanted to do was go to a NASCAR race, and he did.  Kim's sister Darcee and niece Mandee took him to the Texas Motor Speedway at Fort Worth, Texas, to watch the NASCAR races in person.  He had the time of his life!  They visited Branson, the Ozarks, and other places on the way to and from the races. 
Kim loved Elvis.  He enjoyed Halloween, dressing up in costume.  Kim was involved in theater, bowling, LEEP, painting classes, and dance, just to name a few of his activities.  He also enjoyed doing word search puzzles, and later on, painting and coloring beautiful pictures.  Kim loved the times he spent with his sisters, Koni and Darcee, and their families, hanging out, and the many holidays together. 
Kim cherished spending time with his family, and he was totally blest to have such good friends and staff who cared so much for him.   He enjoyed his vacations with everyone.  Kim loved life to the very fullest, and made every day a special day for whoever he met, for they never forgot him. 
Kim passed away on Friday, March 27, 2015, at his home in Eagle Lake, at the age of 60 years, surrounded by family and friends.  He will be dearly missed by many.  We love you to heaven and back.
Kim is survived by his siblings: Sisters: Darcee (Chuck) Wittke of Hutchinson, Koni (Paul) Fank of Dassel, Delores Rath of Hutchinson, Marilyn Timm of Fairfax, Diane Molenaar of Clermont, Florida; Brothers: Grant (Diane) Lade of Springfield, Eugene (Caroline) Lade of Buffalo Lake, Eldor (Carol) Lade of Hutchinson, Dennis (Linda) Lade of Clermont, Florida, Ken (Sherry) Lade of Powder Springs, Georgia, Daryl (Judy) Lade of Mankato, Terry Lade of Hutchinson; Sisters-in-law:  Lois Klitzke of Hutchinson, Ruth Ann Lade of Hutchinson, and Peg Lade of North Mankato; many nieces and nephews; Special Family in Eagle Lake, roomates, Nancy, Tom, and John, the many staff over the years; and many friends.
Kim was preceded in death by his grandparents; parents August and Mabel Lade; brothers Ralph, Loren, Larry, and Arlen; brothers-in-law Lloyd Rath and Fred Timm.