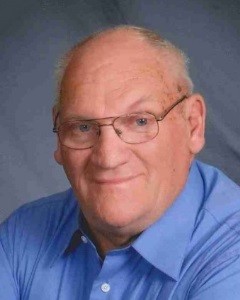 Service Information
Larry Rath, age 70, of Buffalo Lake, Minnesota, died Tuesday, June 27, 2017, as the result of an accident near Buffalo Lake.
Memorial Service will be Thursday, July 6, 2017, at 11:00 A.M. at Zion Evangelical Lutheran Church in Buffalo Lake, with interment in the Church Cemetery.
Gathering of Family and Friends will be Wednesday, July 5, 2017, from 4:00 – 8:00 P.M. at Zion Evangelical Lutheran Church in Buffalo Lake, and will continue Thursday for one hour prior to the service.
Visitation/Gathering
Zion Evangelical Lutheran Church
228 5th Street NW
Buffalo Lake, MN
Service
Zion Evangelical Lutheran Church
228 5th Street NW
Buffalo Lake, MN
Funeral Chapel
Hughes-Hantge Funeral Chapel
311 Main Street S.
Hector, MN 55342
Phone:(320) 848-6297
Cemetery
Zion Lutheran Cemetery (Buffalo Lake)
Buffalo Lake, MN
Obituary
Larry Ervin Rath was born January 12, 1947, in Hutchinson, Minnesota, the son of Ervin and Shirley (Boehlke) Rath. He was baptized on February 9, 1947, at the Zion United Methodist Church in Buffalo Lake, and confirmed in his faith there on May 7, 1961. Larry grew up on the family farm in Boon Lake Township, and graduated from the Buffalo Lake High School with the Class of 1965.
Larry's life revolved around farming. He farmed with his father in the beginning, and was still actively farming. The Rath family farm is now in its third generation with Larry's son Nathan. In 1987, the Rath family was recognized by receiving the Renville County Farm Family of the Year award.  In his earlier years, Larry owned and operated his own trucking company and later on also drove feed truck for Form A Feed. Larry enjoyed hauling cattle and spent many hours at various stockyards buying and selling cattle.
Larry was blessed with four children: Keri, Nathan, Matthew, and KamiJo. Larry's agricultural background of 4-H and FFA continued with his children's involvement, and now with his grandchildren. He loved being a part of their preparations to show, both at the Renville County Fair and the State Fair. Larry attended school and sporting events his children and grandchildren participated in, and by his loud cheers they knew he was there. He loved his grandchildren more than anything.
Larry was a longtime member of the Zion Evangelical Lutheran Church in Buffalo Lake. He served on the church council, holding various positions, with the latest being the Endowment Committee. He also served on the Renville County Extension Board, and belonged to the Renville County Pork Producers. He was a big community supporter and was always there with a helping hand.
Larry was an avid sports fan, and especially enjoyed Gophers Basketball. He was an avid bowler and sponsored various leagues. He made many memories with his friends on the team. He loved to go ice fishing with the "boys" and enjoyed a spear fishing trip to the Lake of the Woods with his friends. Larry was an avid card player and always had time for a game of cards.
Larry had a big heart. He loved donating and helping anyone in need. His great sense of humor allowed him to have a good conversation with anyone. His daily routine of breakfast at the round table and 2:00 coffee at Cactus Jacks gave him time well spent with his friends. He will forever be remembered and always loved by his family and friends. 
On Tuesday, June 27, 2017, Larry passed away as the result of an accident near Buffalo Lake, having reached the age of 70 years.  Blessed be his memory.
Larry is survived by his:
Children:       Keri Schuette and her fiancé Nick Nelson of Dassel,
                        Nathan Rath and his wife Christine of Buffalo Lake,
                        Matthew Rath and his significant other Tiffany Tersteeg of Buffalo Lake, and
                        KamiJo Lenzen and her husband Joshua of Hutchinson;
Grandchildren:  Jocelyn Schuette, Carter Schuette, Parker Rath, Carsten Rath, Brantley Rath, Hadleigh Lenzen, Lauren Nelson, Hudson Nelson, and Adler Nelson;
Mother, Shirley Rath of Hutchinson;
Brother, Curt Rath and his wife Deb of St. Cloud;
Sister-in-law, Audrey Rath of Winthrop;
Aunt, June Richards of California;
nieces, nephews, great nieces and nephews, other relatives, and friends.
Larry was preceded in death by his Dad, Ervin Rath, and his Brother, James.