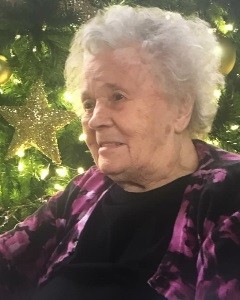 Service Information
LaVergne C. Hageman, age 97, of Hutchinson, passed away Wednesday, July 12, 2017 at Harmony River Living Center in Hutchinson. No services will be held. Interment will take place in Valhalla Cemetery, Milwaukee, Wisconsin.
Funeral Chapel
Dobratz-Hantge Funeral Chapel
899 Highway 15 South
Hutchinson, MN 55350
Phone:(320) 587-2128
Obituary
LaVergne Constance Hageman was born on June 19, 1920, in Milwaukee, Wisconsin. She was the daughter of George Eber and Anna (Kinest) Marredeth. She received her education in Milwaukee, and was a graduate of the Girl's Technical School.
On November 25, 1939, LaVergne was united in marriage to George Hageman in Dubuque, Iowa. This marriage was blessed with three children, Jan, Art, and Mike. LaVergne and George resided in Milwaukee. They shared 49 years of marriage together until George passed away in 1988.
LaVergne worked at the Cudahy School District as a secretary.
LaVergne was a member of The First Church of Christ, Scientist.
LaVergne enjoyed cooking, card games, and square dancing. She especially enjoyed spending time with her family, grandchildren, and friends.
When LaVergne needed assistance with her daily needs she became a resident of the Harmony River Living Center in Hutchinson on December 5, 2013. She passed away there on Wednesday, July 12, 2017, at the age of 97 years.
Blessed be her memory.
LaVergne is survived by her:
Children, Jan Christiansen of Rock Hill, MO,
                Art Hageman and his wife, Donna, of Minneapolis, MN,
                Mike Hageman of South Milwaukee, WI;
Grandchildren, Anne Kieselhorst, Sue Hageman, Sonja Fornal, and Sara Pollmann;
Great-Grandchildren, Robert, Alex, Danielle, Brittany, Donnovan, Courtney, Mara, Leah, Ben, and Nate;
Many other relatives and friends.
LaVergne is preceded in death by her Parents, George Eber and Anna Marredeth; Husband, George Hageman; and Siblings, Nadia, Audrey, and Owen; and Barb Hageman.