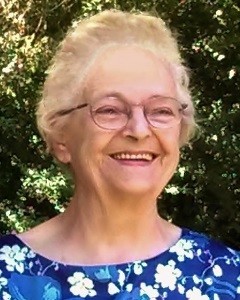 Service Information
LaVonne J. Lee, age 81, of Hutchinson, Minnesota, wife of the late George Lee, passed away Monday, March 27, 2017, at her home in Hutchinson.
Memorial Services will be held Friday, March 31, 2017, 11:00 A.M. at Christ The King Lutheran Church in Hutchinson.
Gathering of Family and Friends will be held Thursday, March 30, 2017 from 5:00 to 8:00 P.M. at the Dobratz-Hantge Funeral Chapel and will continue one hour before the service at the church.
Visitation/Gathering
Dobratz-Hantge Chapel
899 Highway 15 South
Hutchinson, MN
Website:hantge.com
Service
Christ The King Lutheran Church
1040 South Grade Road
Hutchinson, MN
Funeral Chapel
Dobratz-Hantge Funeral Chapel
899 Highway 15 South
Hutchinson, MN 55350
Phone:(320) 587-2128
Obituary
LaVonne Joan (Lappegaard) Lee was born on August 29, 1935 in Thief River Falls, Minnesota.  She was the daughter of Otto and Dena (Simonson) Lappegaard.  LaVonne was the third of their ten children.  She was baptized and confirmed in the Lutheran faith.  
On March 26, 1955, LaVonne was united in marriage to George Lee of Grygla, Minnesota, in Thief River Falls.  The marriage was blessed with seven children, Kevin, Daryl, Jeffery, Darwin, Dena, Jonathan and Tracy.  LaVonne and George resided in Minneapolis-St. Paul, Minnesota before moving to Hutchinson in 1967.  They shared 61 years of marriage before George passed away on June 9, 2016.
LaVonne was a loving homemaker to her husband and children.  Over the years, she also worked in many capacities including elementary school lunchroom aide, apple picker, census collector, housecleaner for the elderly, thrift store volunteer, and antiques store sales associate.
LaVonne was an active member of Christ the King Lutheran Church for the 50 years she resided in Hutchinson.  She taught release time for many years and, as an avid quilter, donated many quilts each year to the church for charity relief.
LaVonne's many hobbies included road trips with family, frequenting casinos along the way, spending time in her yard, pulling weeds, burning twigs and tending her gardens, refinishing furniture, and finding a great deal at a garage sale or auction.  She enjoyed clipping coupons and grocery shopping, saying it was always an adventure to go with her, which it was.  LaVonne was very creative and a master at repurposing just about anything.  She was fun-loving, always making visitors feel welcome and never letting them leave on an empty stomach.  Other than during the Wheel of Fortune, LaVonne was always available to bestow advice and wisdom on any subject of your choosing.  She could never pass up a good game of Skip-Bo and always enjoyed a good laugh, often at her own expense.  She enjoyed many hours tending to her antiques and the camaraderie of her dear friends at Main Street Antiques.  LaVonne was especially committed to her family and enjoyed spending time with them.
LaVonne passed away peacefully on Monday, March 27, 2017, surrounded by family at her home in Hutchinson, at the age of 81 years.  She is reunited with George, her one true love.
LaVonne is survived by her:
Seven children, Kevin Lee of Seward, AK,
                         Daryl Lee of Shakopee, MN,
                         Jeffery Lee and his wife, Paula of Rapid City, SD,
                         Darwin Lee and his wife, Jo Ann of Minneapolis, MN,
                         Dena Lee and David Williams of North Branch, MN,
                         Jonathan Lee and his wife, Martha of Anchorage, AK,
                         and Tracy Lee of Easton, MD; 
Grandchildren, Anna Lee Mullikin (Martin), Nathan Lee (Brittny Garrett), Kristian Lee (Jennifer LeDoux), Ilsa Lee, Hannah Lee, Jenna Lee, Wyatt Lee, Ryan Lee and Cody Lee; Great-grandchildren, Bentley, Aubrey and Haydn;
Siblings, Darlene Arlington, Laurel Lappegaard and his wife LaVonne, Beverly Ketzner and her husband William, Barbara McDougall, Roger Lappegaard and his wife Sharon, Lorna Gunderson and her husband Dennis, Rick Lappegaard, Terry Lappegaard and his wife Gwen, and Steven Lappegaard and his wife Judy;
many nieces and nephews, all of her Lee family, and many other relatives and friends. 
LaVonne is preceded in death by her Husband, George; Parents, Otto and Dena Lappegaard; Daughter-In-Law, Patti Lee; Brothers-In-Law, Shelby Arlington, Conrad McDougall, Harland Lee Jr. and Earl Lee; Sister-in-law, Cerise (Lee) Swanson Luhning; Nephew, Brian McDougall; Nieces, Gina (Lappegaard) Anderson and Jill Lappegaard.