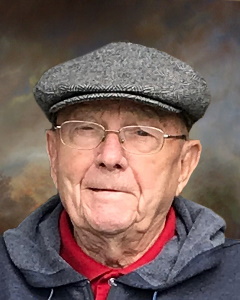 Service Information
Lawrence "Larry" Ohland, age 96, of Stewart, Minnesota, passed away on Thursday, August 11, 2022, at Harmony River Living Center in Hutchinson, Minnesota.
A Private Family Memorial Service will be held.
In lieu of flowers, the family is requesting that memorial donations be made to the Preston Lake Cemetery c/o Jean Halbur, 722 S Davis Avenue, Litchfield, MN 55355.
Funeral Chapel
Hughes-Hantge Funeral Chapel
311 Main Street S.
Hector, MN 55342
Phone:(320) 848-6297
Obituary
Lawrence (Larry) William Ohland, 96, passed away at Harmony River Living Center on August 11, 2022 at the "crack of dawn" (which was his normal waking time) with his children by his side.
He was born August 23, 1925 into the home of Edward and Wilhemina (Minnie) Ohland on a farm near Gibbon, MN. He was their third child, but first son. He was baptized and confirmed in the Lutheran faith at Immanuel Lutheran in Gibbon, MN and graduated from Gibbon High School in 1943. He farmed with his father and uncles by Gibbon until he decided to move to Minneapolis where he was employed at Continental Baking Company and Minneapolis Gas Company. He met his wife and the love of his life, Margaret (Ludowese) on a bus ride from Minneapolis to Gibbon. They reconnected at the Gibbon Ballroom and were married at St. Stephen's Catholic Church in Minneapolis, MN on August 5, 1950. They continued to work and live in Minneapolis until they bought and moved to a farm north of Stewart. The farm became a life-long professional success for Larry and Margaret where they grew soybeans, corn, oats and raised hogs and cattle. They welcomed and raised 5 children, Susan, Gail, Kathleen, Grant and Jean who they taught to be kind, independent and hard-working. It was a source of great pride that they sent all their children to college which was an opportunity that they had longed to experience. They continued to live on the farm after retirement where Larry changed his focus from farming to gardening and began applying his "green thumb" to his garden and flowers. When Margaret's health began to fail, they moved to Ecumen Pines Assisting Living in Hutchinson, MN and Larry continued to live there after her death in 2015 until July 2020. He moved to Harmony River and lived there until his death.
He had been a member of St. Paul's Lutheran Church in Stewart where he served on the Pastoral Council, on various sub-committees and sang in the choir. Later in life, he became a member of Peace Lutheran Church in
Hutchinson.
Larry is survived by his:
Children, Susan (Ron) Omann of St. Stephen, MN,
Gail (Arthur) Winkler of Hutchinson, MN,
Kathleen (AJ) Dordel of Chanhassen, MN,
Grant (Debra) Ohland of Dacono, CO,
and Jean (Gary) Halbur of Litchfield, MN;
12 grandchildren;
10 great-grandchildren.
He was preceded in death by his wife, Margaret and granddaughter, Cara Halbur, his parents, his sisters, Delores Runmark and Lorayne Lagermeier and brothers, Norman and Wallace.