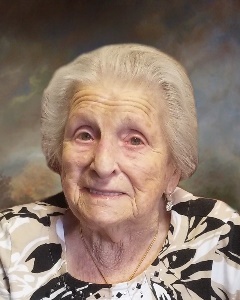 Service Information
Lea Jeanne Erickson, age 98, of Waconia, Minnesota, formerly of St. Bonifacius, Minnesota, passed away on Saturday, July 1, 2023, at Good Samaritan Society in Waconia, Minnesota.
Celebration of Life will be held Sunday, July 30, 2023, from 1:00 to 4:00 P.M., with a luncheon, at the Mayer Community Center in Mayer, Minnesota. (413 Bluejay Avenue North)
Arrangements are with the Johnson-McBride Funeral Chapel in Glencoe, Minnesota. 
Obituary
Lea Jeanne Marie Hannotte was born Oct. 1, 1924, in Verviers, Belgium, the daughter of Jules and Josephine Hannotte.
She went to school through 10th grade and then continued with two years of seamstress schooling, which ended with the start of WWII.
During WWII, her mother and two sisters spent the early part trying to stay ahead of the German invasion. They walked, took trains, and car rides from strangers to get to Southern France, only to be put on a train and sent back to Belgium.
Lea met and fell in love with Donald Erickson, who was an active military American in 1944 during WWII. Lea was united in marriage to Donald July 10, 1945, in Verviers, Belgium. They shared over 72 years of marriage.
Lea worked at various jobs before becoming a private gardener for the late Mrs. John Pillsbury Sr. She was employed there for over 10 years before her retirement.
Her family was very important to her. She was a very caring person with a witt about her. She loved gardening, fishing, canvas painting, board games, and spending time at the cabin. She also enjoyed her winters in Arizona.
Lea was preceded in death by her husband, Donald Erickson, her son James Erickson, parents, sisters (three), brother, mother and father-in-law, brother and sisters-in-law, and best friends Beryl and Zelman Levine.
Lea is survived by her children, Don Erickson of Buffalo, Richard "Dick" Erickson of Mayer, Jeanne Salonek and Bruce Stacken of New Germany, Michele Furman of Wyoming, and John and Betty Erickson of New Germany, and daughter-in-law Karen Erickson of NYA. Also survived by her "other" children, Kreg and Lisa Levine, and Fred and Phyllis Radde.
She is further survived by grandchildren, Judy (Greg) Emerick, Brady (Amy) Erickson, Angella (Corey) Graves, Jessica (Ron) Bentz, Kristin (Mike) Kraemer, Mike Erickson (Ashley Ashbeck), Sandi Wahl, Nathan (Jamison) Erickson, Nicki (Alex) Nash, Jennifer Aretz (fiancée, Jesse Gagnon), Jon (Rachel) Erickson, and Cassie (Phil) Schneider, 25 great-grandchildren, 1 great-great-grandchild; nieces and nephews, Pat (Lou) Manna, Anne Parsen, Marc Jounen, Jacqueline (Jean Louis) Junker, and Francoise Sauvage; other relatives and many friends.