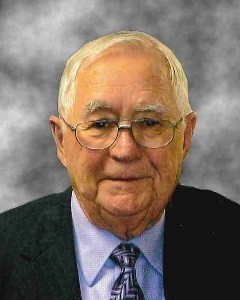 Service Information
Leo "Buzz" Nelson, age 90, of Hutchinson passed away on Sunday at Harmony River Living Center in Hutchinson.
Mass of Christian Burial will be Wednesday, February 17, 2016, at 11:00 A.M., at St. Anastasia Catholic Church in Hutchinson with interment in the church cemetery. Military Honors by the Hutchinson Memorial Rifle Squad.
Visitation will be Tuesday from 5:00-7:00 P.M.  and Wednesday from 8:00 A.M. at the Dobratz-Hantge Funeral Chapel in Hutchinson and will continue one hour prior to the service at Church.
Visitation/Gathering
Dobratz-Hantge Chapel
899 Highway 15 South
Hutchinson, MN
Website:hantge.com
Service
St. Anastasia Catholic Church
460 Lake Street South
Hutchinson, MN
Funeral Chapel
Dobratz-Hantge Funeral Chapel
899 Highway 15 South
Hutchinson, MN 55350
Phone:(320) 587-2128
Cemetery
St. Anastasia Catholic Cemetery (Hutchinson)
Hwy 15 N.
Hutchinson, MN
Obituary
Leo "Buzz" Nelson was born on March 10, 1925, in Aldrich, Minnesota. He was the son of Albert and Leona (Gibbs) Nelson. Buzz was baptized as an infant in the Congressional Church. He received his education in the Aldrich area.
On June 30, 1943, Buzz entered the military during World War II. He served in the Philippines, spending 92 days in a fox hole. He was on a ship to Japan in 1945, when the war ended. Buzz was discharged on January 22, 1946, having earned the Bronze Star for Philippine Liberating, the Bronze Star for distinguished unit in the Asiatic Pacific and the good conduct medal. He was proud of his military service and attended many army reunions over the years. Upon returning home, Buzz held many jobs in and around Aldrich.
On May 8, 1948, Buzz was united in marriage to Harriette Sebasky, in Rice, Minnesota. This marriage was blessed with three children, Marty, Steve, and Mary. Following their marriage, Buzz and Harriette resided in Perham, Verndale, and in 1962, the family moved to Buffalo Lake, Minnesota, to work with his brother, Arvid at the elevators. Buzz and Harriette shared 55 years of marriage until Harriette passed away on June 15, 2003.
In 1973, Buzz and Marty started Form-A-Feed, Inc. with Steve joining them after the service. Both Marty and Steve remain active in the business as did many relatives. Buzz retired in 1980, spending the winters in Apopka, Florida. Buzz lived on Lake Allie in the summer months, where he and others started the Oakdale Golf Course in 1965. Even though he spent many hours golfing, hunting and fishing, he always kept up with the "boys" and the business.
After his first wife passed away in 2003, Buzz married DeEtta McLain on November 25, 2005, in Scottsdale Arizona. They resided in Hutchinson and spent the winters in Florida and Rio Verde, Arizona for 10 years.
Buzz attended St. Anastasia Catholic Church in Hutchinson. He was a member of Knights of Columbus in Apopka Florida and the American Legion and VFW.
When Buzz needed assistance with his daily care, he became a resident of the Harmony River Living Center in Hutchinson, Minnesota, on January 5, 2015. He passed away there on Sunday, February 14, 2016, at the age of 90 years.
Blessed be his memory.
Buzz is survived by:
Wife, DeEtta Nelson of Hutchinson, MN;
Children, Marty Nelson and Jodi of St. Cloud, MN,
Steve Nelson and his wife, Louise of Excelsior, MN,
Mary Nelson of Minnetonka, MN;
Stepson, Craig McLain and his wife, Kim of Maple Grove. MN;
Grandchildren, Marty Nelson, Michael Nelson, Jeff Nelson and his wife, Rachael, Eric Nelson and his wife, Nicole, Stephanie Nelson Winter and her husband Chad,  Joe Nelson; 
Step-Grandchildren, Ali and her husband, Jeremy, Sami and Andrew, Kyle, Brady and Sabrina Kruchten;
11 Great Grandchildren;
2 Step Great Grandchildren;
Brother, Larry Nelson and his wife, Romelle of Perham, MN;
Sisters, Rita Stone and her husband, Phillip of Staples, MN,
Ardy Schmidt of Aldrich, MN;
Many Nieces, Nephews, other relatives and friends.
Buzz was preceded in death by his Parents, Albert and Leona Nelson; First Wife, Harriette Nelson; Sister, Rayma Thorn; Brothers, Darrell "Tuffy" Nelson, Arvid Nelson, William Nelson.