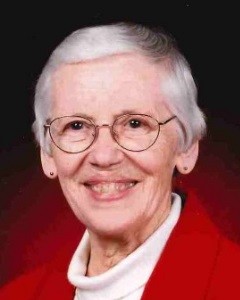 Service Information
Leola  "Ole" Tessmer, age 91, of Stewart, passed away Tuesday, November 17, 2015, at the Harmony River Living Center in Hutchinson.
Funeral Service will be Saturday, November 21, 2015, at 11:00 A.M. at St. Paul's Lutheran Church in Stewart, with interment in the Church Cemetery.
Visitation will be Saturday for two hours prior to the service, from 9:00 – 11:00 A.M., at St. Paul's Lutheran Church in Stewart.
Memorials are requested to St. Paul's Lutheran Church in Stewart.
Service
St. Paul's Lutheran Church
300 Croyden Street
Stewart, MN
Funeral Chapel
Cemetery
St. Paul's Lutheran Cemetery (Stewart)
300 Croyden St - Across Croyden Street from Church
Stewart, MN
Obituary
     Leola "Ole" Wilhelmine Ella Ellig Tessmer was born August 13, 1924, in Bismarck Township, Sibley County, Minnesota, the only child born to Benhard and Helena (Roepke) Ellig. She was baptized September 7, 1924, at St. John's Lutheran Church in Bismarck Township, and confirmed in her faith (in German) on April 10, 1938, at Immanuel Lutheran Church in New Auburn, Minnesota.  She attended grade school at several schools, as her parents moved different times in her youth.  After completing the 8th grade, her parents were now living and farming in Bismarck Township.  She wanted to attend high school, but was told she needed to help on the farm and there was no need to attend high school.
     Ole married Orvel Tessmer on October 27, 1944, at St. John's Lutheran Church in Bismarck Township, rural Winthrop.  Their marriage was blessed with three children: Randy, Neal, and Wendy.  Ole was a lifelong Lutheran parishioner, and her faith was always strong and growing.
     Orvel and Ole farmed with both parents until they could go it on their own.  Ole was a true marriage partner, standing and working side by side with Orvel through the farming, along with raising and taking her children to parochial school.  When times needed additional income, Orvel worked off the farm and Ole would take care of the animals and the milking of the cows, along with the help of her children.  Later the cows were sold, and Ole went to work at Super Valu in Gaylord.
     In August of 1965, Orvel and Ole and the family moved to Stewart, Minnesota.  Ole worked a season at Green Giant, then at Lee's Super Valu in Glencoe until retirement.  In 1986, she and Orvel purchased the Stewart Hardware Store which they operated until the fall of 2001.  There they made lifelong dear friends, the "coffee clutch group."
     Ole was a very giving, loving, and kind person to all; she always sought the positive in all situations.  She was always content with what she had, little or much; she firmly knew the Lord would take care of her.  Ole was an active member of St. Paul's Lutheran Church in Stewart, from teaching Sunday School for 20-plus years, serving and working in the Ladies groups, singing in the choir, and serving where there was a need.  She also volunteered at the Gaylord Lakeview Nursing Home for many years until her health wouldn't allow her to.  Ole donated to the Red Cross blood donation program until her health did not allow her to donate, with many gallons donated.
     In her spare time, Ole enjoyed traveling, dancing, playing cards, fishing, going for rides in the countryside, visiting with friends and especially her family.  She truly loved and enjoyed her family, and her grandchildren were always very cherished by her.
     Leola's memory will be lovingly cherished by her: Son, Randy Tessmer and his wife Sue of Gaylord; Daughter, Wendy Hellwig and her husband Steve of Litchfield; Daughter-in-law, Jeannie Tessmer of Hutchinson; Grandchildren: Craig (Janna) Tessmer, Kris Krienke, Heidi (Nathan) Krzmarzick, Corrine (Jody) Riebe, Tiffany Tessmer, and Ben Tessmer; Great-Grandchildren: Beth Tessmer, Sarah Tessmer, Caitlin Krzmarzick, and Colton Krzmarzick; Nieces, other relatives, and friends.
     Leola was preceded in death by her Parents, Ben and Helena Ellig, Husband Orvel, Son Neal Tessmer, Parents-in-law, Henry and Gertrude Tessmer, Brother-in-law and Sister-in-law, Hilbert and Mabel Tessmer, and Niece Marilyn Boener.