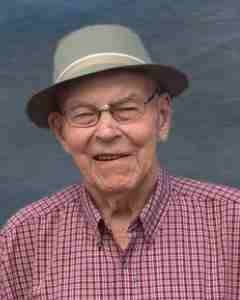 Service Information
Leon A. Linder, age 90, of Hutchinson, Minnesota, passed away on Tuesday, January 26, 2016, at Johanna Shores Home Care Center in Arden Hills, Minnesota.
Memorial Service will be Saturday, February 6, 2016, at 11:00 A.M., at New Journey United Church of Christ in Hutchinson, Minnesota with interment at Oakland Cemetery.
Gathering of Friends and Family will be 1 hour prior to the service at the church.
Visitation/Gathering
New Journey United Church of Christ
31 4th Street SW
Hutchinson, MN
Service
New Journey United Church of Christ
31 4th Street SW
Hutchinson, MN
Funeral Chapel
Dobratz-Hantge Funeral Chapel
899 Highway 15 South
Hutchinson, MN 55350
Phone:(320) 587-2128
Cemetery
Oakland Cemetery
805 Hwy 15 South
Hutchinson, MN
Obituary
Leon Andrew Linder was born on April 11, 1925, in Foley, Minnesota. He was the youngest of the four children of Charles and Olivia (Westlund) Linder. When he was three, Lee's mother contracted tuberculosis and entered a sanatorium.  As a result, Lee moved to Hutchinson to be raised by his uncle and aunt, George and Amy Linder, and to grow up with his cousin, Elaine. George, Amy, and Elaine became his family, and he cared for them dearly. Lee attended the Bear Lake Country School and graduated from Hutchinson High School in 1942.
George died in 1945, when Lee was 19.  For a period, Lee continued to work the family farm with Amy, and he later farmed on his own.  Eventually, he moved into Hutch and began work as a carpenter.  He later started his own construction firm.  He was proud to have worked on homes and buildings throughout town, including the UCC church, Ridgewater College, and many of the stores along Main Street.  He was a dedicated worker and continued doing modest job well into his 80s.
On January 21, 1961, Lee married Shirley Strand, at her family's church in Minneapolis.  Shirley had moved to Hutchinson after obtaining her teaching degree.  The couple had two sons, David and Kevin.  Lee and Shirley continued to reside in Hutchinson throughout their 53 years of marriage.  Shirley passed away on February 2, 2014.
Lee enjoyed being outdoors and was a student of the natural world.  He always was quick with a smile and loved a hearty laugh.
Lee relished every opportunity to spend time with his family and friends.  In April 2015, his family hosted a 90th birthday party for him in Hutch.  He could not have been more pleased.
Lee moved to Johanna Shores, in Arden Hills, after breaking his hip in late 2014.  He passed away there on Tuesday, January 26, 2016, at the age of 90 years.
Blessed be his memory.
Lee is survived by his:
Sons, David Linder and his wife, Anna, of Minneapolis, MN,
           Kevin Linder and his wife, Stephanie, of Millington, NJ;
Grandchildren, Grace, Samuel, Amy, Peter, and Zachary Linder;
Many other relatives and friends.
Lee was preceded in death by his parents, Charles and Olivia Linder; wife, Shirley Linder; sisters, Florence Neumann and Helen Harvey, and brother, Raymond Linder.