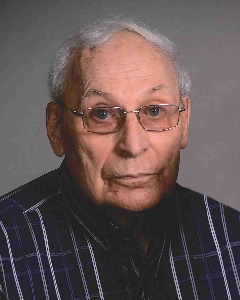 Service Information
Leroy Milo Suttles, age 92, of Glencoe, Minnesota, passed away on Thursday, October 19, 2023, at Harmony River Living Center in Hutchinson, Minnesota.
Memorial Service will be held Saturday, December 2, 2023, 2:00 P.M., at First Evangelical Lutheran Church in Glencoe, with interment in the church cemetery.
Gathering of Family & Friends will be held Saturday, December 2, 2023, from 1:00-2:00 P.M., one hour prior to the service at the church.
Military Honors by the Glencoe Military Honor Guard. 
Funeral Chapel
Johnson-McBride Funeral Chapel
1222 Hennepin Avenue
Glencoe, MN 55336
Phone:(320) 864-3737
Obituary
Leroy Milo Suttles was born on May 15, 1931, in Nicollet, Minnesota. He was the son of LeRoy and Lillian Mildred (Johnson) Suttles. Leroy was baptized as an infant and was later confirmed in his faith as a youth both at Trinity Evangelical Lutheran Church in Nicollet, Minnesota. He received his education in Gibbon and was a graduate of the Gibbon High School class of 1950. Leroy furthered his education at Mankato Vo-Tech for two years with studies in Auto Mechanics.
Leroy entered active military service on December 5, 1952. He served in the United States Army from 1952-1954, during the Korean War. He was awarded the Good Conduct Medal and the National Defense Service Award. Leroy received an honorable discharge on December 4, 1954.
On June 29, 1953, Leroy was united in marriage to Adele Ehrenberg at St. Paul's Evangelical Lutheran Church in Arlington, Minnesota. This marriage was blessed with four children, Linette, Larry, Loren, and Lamar. Leroy and Adele resided in Norwood and Glencoe, Minnesota. The couple shared 69 years of marriage when Adele passed away on August 4, 2022.
Leroy was employed as a mechanic for the "Ford" Garage in Norwood and Glencoe, MN. Leroy also worked as a jailer in McLeod County, retiring in 1993. Leroy was an active member of First Evangelical Lutheran Church; he attended weekly bible study and sang with the church choir.
Leroy enjoyed hunting, fishing, and shooting and reloading ammo. He enjoyed visiting with friends, playing cards, and traveling with his family. He was an avid Minnesota Twins fan and enjoyed watching games at Met Stadium. He was fortunate enough to get the opportunity to attend the Minnesota Twins' World Series games in 1987 and 1991. He enjoyed being a part of the local square dance club. When he was young, he spent time on the open road riding motorcycle. It was something he looked forward to. He enjoyed watching his grandchildren and great-granddaughter play sports. He especially enjoyed spending time with his family, grandchildren, and friends.
Leroy passed away peacefully on Thursday, October 19, 2023, at Harmony River Living Center in Hutchinson, at the age of 92 years. Blessed be his memory.
Leroy is survived by his:
Children,  Linette Schmeling and her husband, Ray, of Glencoe, MN,
                 Larry Suttles of Glencoe, MN,
                 Loren Suttles and his wife, Heidi, of Eau Claire, WI,
                 Lamar Suttles and his wife, Helen, of Austin, TX;
Grandchildren, Laura Bernstrom and her husband, Patrick, Kyle Schmeling, Tyler Suttles, Drew Suttles and his fiancé, McKenzee Bellesbach, Brooke Suttles, Christian Suttles;
Great-Grandchildren, Nina Langley, Joseph Suttles;
Step Great-Grandchildren, Alexis Delgado, Jeremiah Delgado;
Sister, Leona Dreier of Hutchinson, MN;
Many other relatives and friends.
Leroy was preceded in death by his Parents, LeRoy and Lillian Suttles; Father-in-law and Mother-in-law, William and Linda Ehrenberg; Wife, Adele Suttles; Brother-in-law, DeLoyd Dreier; Daughter-in-law, Ranaye Suttles; Granddaughter, Jazlyn Suttles; Step-Granddaughter, Danielle Brandenberg; Sister-in-law, Audrey Beckmann and her husband, Allen.