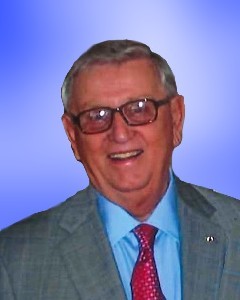 Service Information
Lester "Bud" Peterson age 86, of Winthrop, passed away April 25, 2016, at Abbott Northwestern Hospital in Minneapolis, a few days after suffering a stroke.
Funeral Service will be held Friday, April 29, 2016, 11:00 A.M. at Bernadotte Lutheran Church in Bernadotte, Bernadotte Township,Nicollet County with interment in the church cemetery.
Visitation will be held Thursday, April 28, 2016 from 4:00 P.M.- 8:00 P.M. at the Bernadotte Lutheran Church. Visitation will continue one hour prior to the service at the church on Friday.
Visitation/Gathering
Bernadotte Lutheran Church
34122 515th Avenue
Bernadotte Township, MN
Nicollet County
Service
Bernadotte Lutheran Church
34122 515th Avenue
Bernadotte Township, MN
Nicollet County
Funeral Chapel
Dalin-Hantge Funeral Chapel
209 West Second Street
Winthrop, MN 55396
Phone:(507) 647-5326
Cemetery
Obituary
Lester "Bud" William Peterson was born on March 15, 1930, to Dewey and Luella (Ginkel) Peterson in New Sweden Township. The family would move to a farm in Bernadotte Township when he was six years old. In his teens, Bud started farming with his father, eventually purchasing the family farm. The farm expanded and he continued to farm until he retired.
On August 12, 1951, Lester was united in marriage to Betty Matthes at St. Paul's Lutheran Church in Gaylord. They would have been married 65 years this summer.
Bud was baptized in the Lutheran faith and confirmed at Bernadotte Lutheran Church where he remained a member for life. He was active in the church serving on the council for two 6 year terms, many as chairman; he was the superintendent of the Sunday School for many years; and he enjoyed singing in the choir.
Lester was a 60 year member and Past-Master of the Sibley Masonic Lodge #209 in Winthrop. He was also a member of the Zuhrah Shrine Temple in Minneapolis and a member of Eastern Star.
Bud enjoyed time with his family at his lake home on Gull Lake near Brainerd; he especially liked family gatherings and being around his little great-grandchildren. He and Betty had wintered in Mesa, Arizona for the last 30 years. Bud was known as an inventor having designed and built many items used on the farm and at the lake. He held a US patent for an outdoor, rotating tanning bed known as the Eventanner. Bud enjoyed traveling, going on many road trips throughout the US, and traveling overseas.
Lester is survived by his:
wife, Betty L. (Matthes) Peterson;
children, Steven (Stephanie Bish) Peterson,
Gwen (Gene) Berg,
Lori Peterson,
Kurt Peterson;
grandchildren, Sarah (Nathan) Kreykes, Matthew (Jennifer Huebscher) Peterson, Nicole Peterson, Laura (Jacob) Menden, Jena (Peter) Peterson;
great-grandchildren, Evelyn, Wilson, Roman, Franklin, Rocco, Poppy, Eleanor, Madeleine, Penny (expected in June);
siblings, Donna Muck, Darlene Voss, and MyraLee (Roy) Bevis;
nieces, nephews, other relatives and friends.
He was preceded in death by his parents; siblings, Delores (Peterson) Petterson, Donald Peterson, and Gerald Peterson.