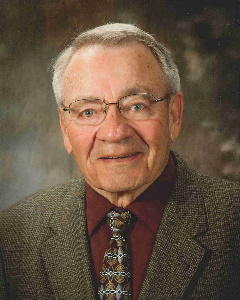 Service Information
Lester M. Milbrand, age 89, of Glencoe passed away Sunday, January 15, 2023, at GlenFields Living With Care in Glencoe.
Funeral Service will be Friday, January 20, 2023, 11:00 A.M. at St. John's Evangelical Lutheran Church, Helen Township, McLeod County, Minnesota, with interment in the church cemetery.
Visitation will be Thursday, January 19, 2023, from 4:00 P.M.-7:00 P.M. at the Johnson-McBride Funeral Chapel in Glencoe and will continue one hour prior to the service at the church on Friday.
Visitation/Gathering
Johnson-McBride Funeral Chapel
1222 Hennepin Avenue
Glencoe, MN
Website:hantge.com
Service
St. John's Evangelical Lutheran Church - Helen Township
4505 80th Street
Glencoe, MN
Funeral Chapel
Johnson-McBride Funeral Chapel
1222 Hennepin Avenue
Glencoe, MN 55336
Phone:(320) 864-3737
Cemetery
St. John's Lutheran Cemetery (Helen Twp)
Helen Township, MN
Obituary
Lester Marvin Milbrand was born on March 29, 1933, to Alvin and Bertha (Hoernemann) Milbrand in Green Isle Township, Sibley County, Minnesota. He was baptized and confirmed at St. John's Evangelical Lutheran Church, Helen Township. He first attended country school where he learned to speak English rather than German, followed by parochial school at St. John's where he was confirmed. He graduated from Glencoe High School in 1951. Following graduation, he did custom harvesting out west and farmed with his father and brother. He served his country in the United States Army from 1956 to 1958 attaining the rank of SP4.
On April 18, 1959, he married Cordelia Jabs at St. Paul's Lutheran Church in Jordan, Minnesota. They were blessed with three children, Maureen, Debra, and Brian. In 1981, they hosted an exchange student, Chihiro Sato Kagge, who quickly became another daughter to the family. The couple was blessed to share 63 years together.
Lester was a lifelong member of St. John's Evangelical Lutheran Church serving as president and vice president and serving on various committees.
Following his dad's retirement, Lester continued farming with his son, until his retirement in 2011. Lester was also a seed salesman for the NK Company for 37 years until 2013. He was a Purebred hog producer serving on local, state, and national swine producer boards. He showed hogs at the Minnesota State Fair for 48 years. Lester was a 4-H member/advisor, an FFA member, and a Green Isle Township supervisor. He was named Jaycee's Outstanding Young Farmer in 1968.
Lester enjoyed spending time with his family and loved them dearly. Whenever he set his eyes on them there was always that big smile. Traveling was a highlight of his life. Some of the areas he traveled to with family were Germany and surrounding areas, Norway, Ireland, and many states in the United States, including Hawaii and Alaska, usually driving and stopping to see the sights.
Lester enjoyed dancing, bowling, and golf, and his hobbies included trapping, hunting, and fishing. His favorite was fishing with family and friends, always trying to catch that big one. Another enjoyment in his life was being a part of a card group since 1960, going from neighbor to neighbor. He also volunteered at the long-term care facility, playing 500 with some of the residents. He was known to give combine rides to all the grandkids and neighbor kids during harvest season.
In January of 2014, he suffered a stroke and was limited in doing the things that he truly enjoyed. In 2019, Lester and Cordelia moved to Orchard Estates and in 2021, he entered Harmony River in Hutchinson and moved to GlenFields Living With Care in Glencoe in 2022.
Blessed be his memory.
Lester is survived by his:
Wife,          Cordelia Milbrand of Glencoe, MN;
Children,    Maureen Lowden and her significant other, Mark Ische of Glencoe, MN,
                   Debra (Joel) Ebert of Gaylord, MN,
                   Brian (Traci) Milbrand of Glencoe, MN;
Special Daughter, Chihiro Sato Kagge and her sons, Tom Toshio, Haakon Taisho, and Ken Even of Norway;
Grandchildren, Mitchell Lowden of Glencoe, MN, Ashley (Denver) Lowden of Savannah, GA, Brianna Lowden of Glencoe, MN, Hannah Ebert of Gaylord, MN, Sam Ebert of Gaylord, MN, Megan (Aaron) Olson of Annapolis, MD, Mason Milbrand of Glencoe, MN;
Great-grandsons, Grayson Abrams and Liam Olson;
Sister, Darlene (Duane) Heuer;
Sisters-in-law, Dianne Jabs, Dolores (Dennis) Griffith;
Many nieces, nephews, cousins, and friends.
Lester was preceded in death by his Parents, Alvin and Bertha Milbrand; Brother, Harvey Milbrand; Niece, Nancy Milbrand; Father-in-law and Mother-in-law, Gust and Lillian Jabs; Brothers-in-law and Sisters-in-law, Joan Milbrand Bullert, Henry (Betty) Jabs, and Clarence (Darlene) Jabs and Lawrence Jabs.