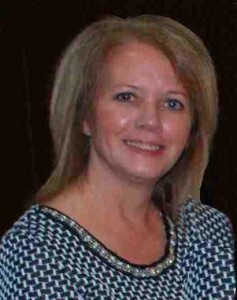 Service Information
Lisa Baker, age 48, (wife of Dale Baker) of Hutchinson, passed away Tuesday, January 12th, 2016 at her home in Hutchinson. 
A Celebration of Life will be Saturday, at 11:00 A.M. at Riverside Church in Hutchinson with interment in Oakland Cemetery. 
Gathering of Family and Friends will be Friday, 4:00-8:00 P.M. and will continue two hours prior to the service on Saturday ALL at church.
Visitation/Gathering
Riverside Church
20924 St. Hwy 7 West
Hutchinson, MN
Service
Riverside Church
20924 St. Hwy 7 West
Hutchinson, MN
Funeral Chapel
Dobratz-Hantge Funeral Chapel
899 Highway 15 South
Hutchinson, MN 55350
Phone:(320) 587-2128
Cemetery
Oakland Cemetery
805 Hwy 15 South
Hutchinson, MN
Obituary
Lisa Jane Baker was born February 19, 1967, in Windom, Minnesota, to Roger and Nancy Johnson. Lisa died peacefully Tuesday, January 12, 2016, at her home in Hutchinson, surrounded by her husband, children and grandchildren, following a 10-month battle with cancer. She bravely fought the disease with numerous hospitalizations and often painful medical procedures. Throughout it all her faith and commitment to her Lord and Savior increased and she was blessed by the moments she spent in prayer when sleep evaded her. 

She moved numerous times as a child before growing up in Spicer, Minnesota, "where it's nicer." In August 1984, she met the love of her life at the water slide in Spicer. Lisa graduated from New London – Spicer High School in 1986, and was joined in marriage to Dale Baker that summer. She graduated from St. Mary's School of Nursing, Mayo Clinic, in Rochester, Minnesota in 1992, earning her degree as a Licensed Practical Nurse. 

Dale and Lisa shared almost 30 years of marriage. Their marriage was blessed with 3 beautiful children, Brandon, Courtney Orwoll and Corbin and 3 more children by their marriages Jillian (LeVasseur), Jeremy Orwoll and Brittany (Jurgenson). Lisa & Dale were blessed with eight grandchildren: Brianna, Ashton, Abel and Madelyn (children of Bandon and Jillian); Avari and Easton (children of Corbin and Brittany); Mason and Emma Orwoll (children of Courtney and Jeremy Orwoll). 

Lisa was blessed with the gifts of service and mercy, which she used to bless many while working as a nurse at Hutchinson Health for the last 16 years. Lisa was a wonderful wife and mother and recently commented that she had "found her calling" by being a grandmother. She was devoted to the grandchildren, and they in-turn were devoted to her, staying and playing with her at home, at the hospitals and praying for her continually during her illness. 

During their marriage Dale and Lisa lived in St. Cloud, Preston, and Elbow Lake before moving to Hutchinson in the Spring of 1996. They also lived three months in Virginia when Dale Attended the Army Engineer Officer Basic Course at Fort Belvoir, Alexandria, Virginia. 

Lisa will also be remembered for her sense of humor, contagious smile, ability to bring joy into a room, and her laughter. There was seldom a dull moment. She loved the beach and the ocean. Traveling with her husband to San Diego and Florida were favorite adventure destinations, along with motorcycle excursions with Mom & Dad Baker throughout the years. She also loved taking her family skiing in the mountains of Vail, Colorado. Highlighted by being able to ski with her two oldest grandchildren. 

Lisa is survived by her loving husband, Dale and their children and grandchildren. Also surviving is Lisa's mother, Nancy Rippentrop of Eden Prairie; her father Roger Johnson of Spicer and her siblings: Laura Johnson of Hutchinson, Lynette (Derek Nissen) of Northfield and Matt Johnson of Mound, Step-siblings Sara Lester of Spicer and Eric Sasse of Willmar; along with Dale's parents Denny & Corinne Baker of Spicer. She was preceded in death by her grandparents, Charles and Edna Torkelson of Windom and Carl and Grace Johnson of Appleton.