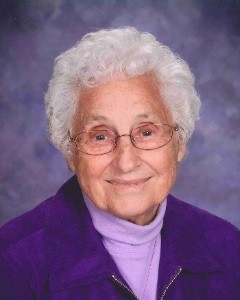 Service Information
Lois Reck, age 88, of Buffalo Lake, passed away Wednesday, January 06, 2016, at the Buffalo Lake Health Care Center.
Funeral Service will be held Saturday, January 9, 2016, at 11:00 A.M. at Zion United Methodist Church in Buffalo Lake, with interment in the Church Cemetery.
Visitation will be held Saturday, January 9, 2016, for one hour prior to the service, from 10:00 – 11:00 A.M. at Zion United Methodist Church in Buffalo Lake.
Visitation/Gathering
Zion United Methodist Church
306 NW 2nd Street
Buffalo Lake, MN
Service
Zion United Methodist Church
306 NW 2nd Street
Buffalo Lake, MN
Funeral Chapel
Hughes-Hantge Funeral Chapel
311 Main Street S.
Hector, MN 55342
Phone:(320) 848-6297
Cemetery
Zion Evangelical Cemetery (Preston Lake Twp)
Renville County, Preston Lake Township
Buffalo Lake, MN
Renville
Obituary
   Lois Adeline (Walter) Reck was born on June 1, 1927 in Preston Lake Township located in Renville County, Minnesota, to parents Alvin and Adeline (Schafer) Walter. She grew up on a family farm south of Buffalo Lake. They farmed and raised a variety of livestock. Lois was baptized and confirmed in the Christian faith at the Evangelical United Brethren Church of Buffalo Lake, Minnesota. She graduated from Buffalo Lake High School in June of 1945.
   On September 27th, 1946, Lois was united in marriage to Wesley Reck at the United Methodist parsonage in Buffalo Lake, Minnesota.  They began their lives together in a small home located in Buffalo Lake.  In 1955, they started a family, and two sons, Tod and Terry, were joyfully added to their family.  Lois was especially proud of her children and was deeply devoted to her husband, Wesley, of 58 years.
   Throughout the years, Lois greatly enjoyed spending time with her family and friends.  She could always be found spending time outdoors.  She would spend hours meticulously tending to her extensive vegetable garden.  She took great pride in her home and responsibilities as a mother and farm wife.  She also enjoyed sewing, quilting, cross stitching, traveling, golfing, snowmobiling, riding motorcycles, attending the monthly "Schafer Cousin" luncheons, celebrating with friends at Birthday Club, hosting Card Club, and spending time at her sister's lake home located on Green Lake. During the cold Minnesota winters, Lois and Wes enjoyed spending time in the much warmer climate of Mesa, Arizona with a large group of local couples.  There, Lois enjoyed walking, hiking, biking, swimming, and playing cards with friends and neighbors.
   For several years she was an active and dedicated member of the United Methodist Women's group at Zion Methodist Church in Buffalo Lake, Minnesota.  She also volunteered at the Buffalo Lake Healthcare Center, Kids Against Hunger, delivered Meals on Wheels, and enjoyed making quilts for special occasions and those in need.  
   Lois was a woman of great faith, strength and service.  She loved the Lord her God with all her heart and soul.  Through her volunteer efforts, she has touched the lives of many.  Blessed be her memory.  
   Lois is preceded in death by her beloved Husband Wesley Reck, Parents Alvin and Adeline Walter, Brothers Merle and Russell Walter, and several family members and friends.
   She is survived by her:
Sons, Tod Reck of Buffalo Lake, MN and Terry Reck of Arizona;
Grandchildren: Michael (Emily) Reck, Michelle (Mark) Melberg, Sandy Duncan, David Duncan, Elmer Duncan, Tara Duncan, Wesley Reck, George Reck, and Amanda (Danny) Dahl;
several Great-Grandchildren;
Sister, Marian (Curt) Sampson of Hector, MN;
Sisters-in-law, Doris Walter of Buffalo Lake, MN, and Phyllis (Robert) Engstrom of Minneapolis, MN;
Nieces and Nephews;
Special Friends, Eleanor Michelson, Marsha Scharmer, and Buddy, her furry companion;
other relatives and friends.