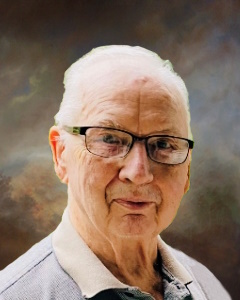 Service Information
Lorenz "Larry" Ladd, age 92, of Golden Valley, Minnesota, formerly of Hutchinson, Minnesota, passed away on Saturday, September 16, 2023, at Flourish Senior Living in Golden Valley.
Funeral Service will be held Thursday, September 21, 2023, at 11:30 A.M, at Bethlehem United Methodist Church in Hutchinson, with interment in Oakland Cemetery in Hutchinson.
Visitation will be held Wednesday, September 20, 2023, from 4:30-7:00 P.M, and will continue one hour prior to the service ALL at the church.
Visitation/Gathering
Bethlehem United Methodist Church
665 Miller Avenue SW
Hutchinson, MN
Service
Bethlehem United Methodist Church
665 Miller Avenue SW
Hutchinson, MN
Funeral Chapel
Dobratz-Hantge Funeral Chapel
899 Highway 15 South
Hutchinson, MN 55350
Phone:(320) 587-2128
Cemetery
Oakland Cemetery
805 Hwy 15 South
Hutchinson, MN
Obituary
Lorenz "Larry" Ladd was born on July 23, 1931, in Minneapolis, Minnesota. He was the son of Lorenz Sr. and Margaret (Larson) Ladd. Larry was baptized as an infant in the Lutheran Church in Forest Lake, Minnesota, and was later confirmed in the Covenant Church in Wyoming, Minnesota. He received his education in Minneapolis, and was a graduate of the North Minneapolis High School Class of 1949. Larry furthered his education at Augsburg University in St. Paul, Minnesota, to obtain his undergraduate degree in Elementary Education, and St. Cloud State University in St. Cloud, Minnesota, where he received a Master's Degree in Administration.
Larry entered active military service in the United States Army on October 7, 1952, and served his country during the Korean Conflict. He received an Honorable Discharge on August 25, 1954, at Fort Sheridan, Illinois, and achieved the rank of Sergeant.
On October 25, 1958, Larry was united in marriage to Maxine Giraud at Zion Evangelical United Brethren Church in Buffalo Lake, Minnesota. This marriage was blessed with two children, Karna and David. Larry and Maxine resided in Winthrop, Minnesota and Buffalo Lake, before moving to Hutchinson, Minnesota, in 1964. Together they owned Good News Unlimited, a Christian Book and Bible store for many years and were blessed by the outreach that it provided. Larry and Maxine shared 41 years of marriage until Maxine passed away on December 25, 1999.
Larry taught school in Hoffman, Minnesota and later met Maxine while they were both teaching in Winthrop. He also served as Principal for Buffalo Lake Schools. After moving to Hutchinson, Larry was Assistant Principal for Park Elementary until West Elementary was built and he became Principal. Larry retired in the Spring of 1997. Larry had a very strong faith and was an active member of Bethlehem United Methodist Church in Hutchinson, serving in the choir and attending bible studies. He also directed the adult, youth, and children's choirs, taught Sunday school, and planned and produced many Christmas pageants as well as participated in many other church groups. He was also a member of the Hutchinson Lions Club and involved with United Way, Meals on Wheels and the Salvation Army. Larry also directed the Choristers for many years and sang over the Christmas Season with the Holiday Singers. He served on the Library Board, and was also a member of the Kiwanis Club and the Hutchinson Safety Council among many other civic organizations over the years.
Larry loved history and sharing about his Swedish Heritage. He enjoyed making a difference in kids' lives. In his younger years, Larry enjoyed traveling with his grandparents to Oregon, and spending time at the farm. He took his love of travel into his adult years spending time with family and his Best Friend, Wayne, in the Great Smokey Mountains, Palm Springs, Las Vegas, and Mexico. Larry especially enjoyed spending time with his family, grandchildren and friends.
Larry passed away on Saturday, September 16, 2023, at Flourish Senior Living in Goldey Valley, Minnesota, at the age of 92 years.
Blessed be his memory.
Larry is survived by his:
Children, Karna Blake and her husband, Michael, of Hutchinson, MN,
David Ladd and his fiancé, Maura Byrne of Apple Valley, MN;
Grandchildren, Rochelle Bird and her husband Bill of Roseville, MN, Kristin Kraemer and her husband, Lee of Savage, MN, Kara Lynn and her husband, Kris of Shakopee, MN, Ryan Ladd of Apple Valley, MN;
Great Grandchildren, Lilah Kraemer, Avery Lynn, Alice Kraemer, Dorothy Bird, Winnifred Bird;
Many other relatives and friends.
Larry is preceded in death by his Parents, Lorenz Sr. and Margaret Ladd; Wife, Maxine Ladd.