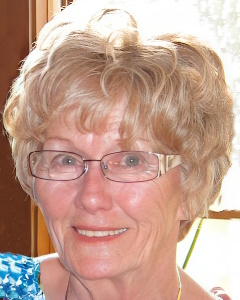 Service Information
Louise "Lu" Haefner passed away peacefully under the compassionate care of the hospice team at GlenFields Living with Care in Glencoe, MN, on Friday, October 27, 2023.
A private memorial service is planned for their 69th wedding anniversary on April 11, 2024. On this special day, they will be honored and remembered. Lu and Sy are forever reunited, experiencing happiness and restored health in the Kingdom of Heaven.
Proverbs 31:31 - Honor her for all that her hands have done, and let her works bring her praise at the city gate.
Funeral Chapel
Johnson-McBride Funeral Chapel
1222 Hennepin Avenue
Glencoe, MN 55336
Phone:(320) 864-3737
Obituary
Louise Clementine Goettl was born on March 8, 1937, to Clem and Marie "Lilly" Goettl in Mankato, MN, where she was the only daughter among six siblings. She spent her early years living on a working farm, surrounded by loving brothers and received a faith-based education at Loyola High School in Mankato, MN.
On June 1, 1953, she went to see the musical comedy The Girl Next Door at the State Theatre in Mankato, MN, with a handsome young man who would become her husband. Two years later, on April 11, 1955, Louise married her first date and best friend, Sylvester Haefner, at Saints Peter & Paul Catholic Church in Mankato, MN.
Louise and Sy were blessed with three daughters, Coni (Anthony) Ciaccio, Mitzi (Michael) Hogan, and Lilli (Bryan) Schaefer. They later welcomed nine grandchildren and nine great-grandchildren into their loving family.
Louise will always be remembered for her kindness and deep affection for her family. She was a talented hair stylist and owned salons in Gaylord, MN, and Sauk Rapids, MN. For many years, she worked at the JC Penney Salon at the Crossroads Center in St Cloud, MN, where she built a loyal clientele before retiring in 2004. Louise was artistic and creative. She loved sewing, planting flowers, and painting. Grammy "G-Lu" will be greatly missed, leaving behind a legacy of always caring for others.

Louise was preceded in death by her husband, Sy, on June 1, 2011.